At the southern tip of India lies the green state of Kerala. Aptly referred to as "God's Own Country" for its golden sandy beaches dotted with coastal villages, stunning landscapes of the Western Ghats, mangrove forests, fragrant spice, tea and coffee plantations and delicious southern cuisine based on fresh seafood and coconut. This immersive gourmet tour takes you on tasting trail from Fort Kochi through the waterways on a traditional rice boat.
If you prefer to travel at your own pace with our local guides, our private trips are for you. Our culinary journeys focus on immersion into the local culture. We introduce you to experts who invite you into their culture and kitchens to participate.
Min 2 guests.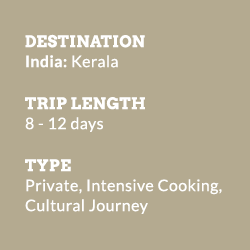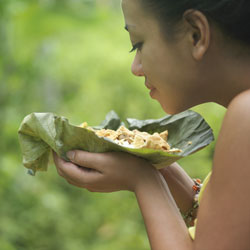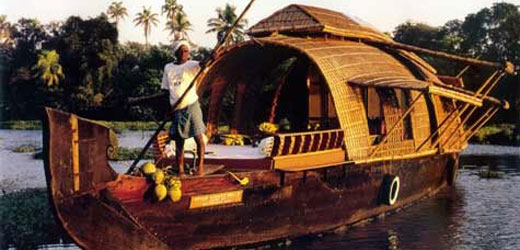 A sliver the South, squeezed between the Arabian Sea and the Western Ghats, Kerala is one of India's most beautiful states. The rivers and canals interconnecting in the region's backwaters are the star attractions. Famous for its backwaters, elegant houseboats, ayurvedic treatments, delicately spiced and colourful cuisine, Kerala is also home to wildlife and vibrant temple festivals.
Further south are the beaches and endless coastline of Kovalam, while inland the mountainous Ghats are covered in a blanket of spices and tea plantations. Eastward, the spice-scented Cardamom Hills and wild elephants of Periyar beckon.
All of which make this coastal idyll not only a must-see on your India itinerary, but a major destination in its own right.
Celebrated as the Spice Coast of India, ancient Kerala played host to travellers and traders from across the world. All of which have left an imprint, with each religion from Muslims to Syrian Christians developing their own cuisine and style of preparation. The Moplah cuisine of the Malabar region has a distinct flavour, borrowed from the traders who regularly visited the region. Kerala cuisine has a wealth of coconut, rice, tapioca and spices like black pepper, cloves, cinnamon and ginger. The Portuguese introduced cassava, now widely eaten in Kerala. The region is also famous for its Sadhya, served at the Hindu festival Onam and consisting of boiled rice and a host of vegetarian dishes on a banana leaf. Kerala cuisine also features a lot of sea food like fish, prawns, mussels and crabs because of its bountiful long coastline.
Here are the top 10 foods you must try when you are visiting Kerala:
Puttu and kadala curry
Appam with stew
Karimeen pollichathu (pearl spot fish)
Malabar Parotta with Kerala beef curry
Erissery or pumpkin and lentil curry
Palada payasam (dessert)
Kerala prawn curry (chemmeen curry)
Thalassery biriyani
Fish moilee
Pazham pori or Ethakka appam (Banana fritters – desert)
Cochin
The 19-room boutique hotel blends contemporary and colonial styles in a quiet street in Fort Cochin. The hotel is decorated with a Dutch Nautical theme, with scale models of Dutch ships, Batavia and Friesland. The restaurant has a bold menu inspired by the East Indian Company's ancient trading routes in Asia. Most of the rooms open on to airy patios or balconies. Just the spot to enjoy a morning tea, nap or the fine tropical sea breeze of the Malabar.
Houseboat
Houseboats or Kettuvallams are one of the major tourist attractions in Kerala. Houseboats also known as Kettuvallam or rice boats were used to carry rice bags in the earlier days. These houseboats are uniquely designed using local materials like bamboo poles, coconut finer ropes, bamboo mats, carpets etc. These houseboats invite you to enjoy in a fabulous way to explore the fascinating beauties of backwaters. With their languid grace and quaint design adds another dimension to your cruise in the shimmering blue waters. These boats have single room & double rooms having a private balcony with comfortable chairs. The rooms are fully furnished with attached bathrooms. Each boat has a fully equipped kitchen and an experienced cook to prepare authentic Kerala cuisine with seafood specialties and fresh vegetables, cooked right in front of you.
We chose eco, traditional houseboats as opposed to the now available very modern ones. Your world is a spacious houseboat all your own, your senses filling with silence and space, at their purest and most alluring. So lean back on a cushion and glide beneath the inverted bowl of the sky. Look outside, look within. Look beyond both. The Japanese call it Satori.
Day on a rippling wave
Time on a Spice Boat flows at a languid pace. Recline on the foredeck and slowly get into the natural rhythm of life. Still your mind and let nature work its magic on your senses. Watch the palm trees sway in the breezes coming over the rice fields, as a cormorant passes overhead. Hear the sharp music of the birdcalls and feel the gentle slap of water knocking at your door.
You catch a whiff of fresh fish roasted over a coal fire. A short refreshing nap after lunch and the magic of the evening envelops you. Relax in an armchair with your favourite drink in hand and watch the sky change colour, till it seems to meld seamlessly with the water. Then the stars make an appearance in the dome above. Frogs croak as the birdsong fades and countless fireflies light the path ahead. Dinner made in the traditional way and you come to something rare: the perfect end to a perfect day.
Coconut Lagoon
There are so many facets to the Coconut Lagoon experience. The heritage of the old feudal villages of Malabar. The Vembanad Lake with its majestic canals, weaving an intricate, beautiful web. The gorgeous green of the fringed palms ripple in the blue waters. The shimmering waters of the canals that criss-cross the property. The flavours bursts of home-style cooking.
The distinctive architecture of Coconut Lagoon has its own tales to tell. Some of these mansions are over 150 years old and have been carefully restored. Each piece of furniture is locally sourced from traditional houses and meticulously chosen to give our interiors and individual look.
Spice Village
Spice Village is an ideal place to experience 5000-year old healing Ayurveda therapies. Each cottage features ethnic Kerala décor. This is a place for everyone who loves nature: a place to fill your lungs with fresh mountain air, to savour the rich fragrance of cinnamon and cloves, and to watch young elephants drinking at the water's edge.
Windemere Estate
Windermere Estate is where the manicured tea gardens merge with the lush green forests of western Ghats. Hallmarked for its exclusiveness and high range hospitality, Windermere is a 60 acre Coffee & Cardamom Plantation. The presence of the Planter's family next door ensures personal attention and local advice devoid of a hotel atmosphere.
Munnar – breathtakingly beautiful – a haven of peace and tranquillity – the idyllic tourist destination in God's own country. Set at an altitude of 6000 ft in Idukki district, Munnar was the favoured summer resort of the erstwhile British rulers in the colonial days. Unending expanse of tea plantations – pristine valleys and mountains- exotic species of flora and fauna in its wild sanctuaries and forests – aroma of spice scented cool air – yes! Munnar has all these and more. It's the place you would love to visit – it's the place you would wish never to leave- so welcome.
Blessed with a pleasant and equable climate throughout the year, Kerala is a tropical land with the coast running down its entire length and the Western Ghats forming a protective barrier against the dry winds from up north. The monsoons (June-September & October-November) and summer (February-May) are the seasons markedly experienced here, while winter is only a slight drop in temperature from the normal range of 28-32°C.
Available year-round upon request.
Best season is October – March
Suggested itineraries are 8 or 12 days. Both itineraries can be entirely tailor-made according to your preferences.
7 nights/ 8 days itinerary:
From USD 2,380 per person (based on 4 guests)
From USD 2,580 per person (based on 2 guests)
11 nights/ 12 days itinerary:
From USD 2,880 per person (based on 4 guests)
From USD 3,080 per person (based on 2 guests)
Arrival and departure transfers for all domestic/International flights and ground transportation by an air-conditioned vehicle
Three nights in Cochin (two nights for 8 day itinerary)
One night in Houseboat
All meals on the Houseboat
Two nights in Kumarakom
Three nights in Thekkady (two nights for 8 day itinerary)
Two nights in Munnmar (12 day itinerary only)
Daily breakfasts
All meals mentioned
Private guided sightseeing as mentioned in itinerary
Walking tour of Fort Cochin
All cooking courses mentioned, recipes
Tour of Ayamanan village
Spice plantation and spice market tour in Thekkady
Guided Bamboo raft experience in Thekkady
Excursions to tea plantation in Munnar with picnic lunch (12 days only)
Monument entrance fees
Bottled water in the vehicle during road journeys
Airfares and personal expenses
Nearest airport is Cochin. We arrange all airport transfers.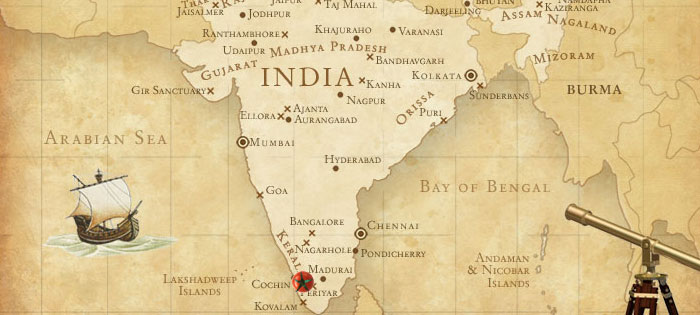 Sample itinerary for 12 days/ 11 nights
Please note that this itinerary is tailor-made and can be shortened to a week-long culinary tour.
Arrival in Cochin – Transfer to your beautiful, contemporary hotel in colonial surroundings.
Full day guided tour through Cochin – old town, colonial architecture, charming alleys and picturesque churches.
Morning walking tour to explore the many different cultures of Fort Cochin – Hands-on cooking class on traditional family recipes, followed by lunch – Cultural immersion and special visit to a home for girls.
Backwaters transfer to Kumarakom – Check into your Heritage Bungalow at Coconut Lagnoon – Afternoon at leisure for relaxation and optional Ayurvedic treatments.
Transfer to Alleppey Jetty – Sail through scenic backwaters – local village and market visit – dinner and overnight in house boat.
Start the day with an optional yoga class – Morning visit to the Aymanam Village, setting of the novel "God of Small Things" – Village and rice paddy field walk – Afternoon Kerala vegetarian and seafood cooking class – Evening at leisure.
Transfer from Kumarakom to Thekkady – arrive in the spice capital of India – check into your villa at the resort – learn to drape a "saree" –introduction on spice and hands-on cooking class.
Thekkady- Bamboo rafting and trekking in the jungle (initiative of Periyar Tiger Reserve) – – afternoon at leisure – Optional Ayurveda massage.
Start the day with an optional yoga lesson – Morning guided tour of a spice plantation- Visit bustling spice market in the Kumily village – Afternoon at leisure to enjoy the resort.
Transfer from Thekkady to Munnar – Afternoon walk through the estate's Coffee & Cardamom Plantations with a naturalist.
Full day excursion with jeeps to the "highest tea growing estate in the World" – picnic lunch in the tea gardens – evening at leisure.
Transfer to Cochin airport – Departure.