Dusk over Jemaa el Fna, Marrakech's famous foodie square, is a mystical hour of rising smoke tendrils, hypnotic dance beats and the smell of saucy Tajines cooking towards succulent tenderness. On our first night in Morocco, Josie, Mel and I sat on a rooftop, ensconced on opulent cushions watching the sun fade over a wonderland of twinkling lights and lanterns.
The magical scene perfectly announced the start of a decadent week; full of food, friends, fun and fantasy.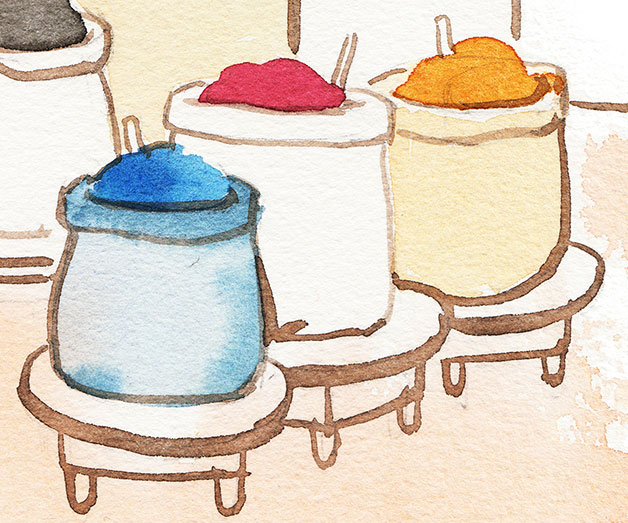 A cooking course in Morocco just wouldn't be complete without a stay in a luxury villa outside the medina, surrounded by a palm oasis. Add to that a hamman for steam baths, massages and hot tub soaking – and we could barely stop ourselves from jumping up and down, squealing like three-year olds.
The excitement tipped over during our first culinary tour in Morocco, of the colourful souks to gather ingredients with our chef. Amid the scent of lemons, olives, mint and incense, we gazed at towering piles of intensely-coloured spices, woven baskets brimming with herbs and a warren of shopping alleys only Aladdin's Cave could outdo.
Back in the kitchen, we were ready for our first cookery course in Marrakech. We learnt to prepare Tajen Djaj bel Btata Lehleewa, or Tajine of chicken with sweet potatoes, while our chef shared fascinating insights into the rich history that's shaped Morocco's multi-cultural cuisine. As a group of enthusiastic gourmets, our questions flew hard and fast among much laughter, which he answered graciously and with impressive expertise.
During lunch by the villa pool, our incessant talking stopped only as we devoured our creations. The awed silence lasted well into my last, sugary bite of cornes de gazelle, which – in terms of cooking in Morocco – is the queen of all pastries, with a divine almond filling that simply melts in your mouth.
Lulled into a blissful food-coma, we relaxed by the pool before a guided tour of the souk. Mel, being the shopaholic of the group, soon adapted to the pleasure of haggling and successfully knocked dirhams off the prices of leather bags, exquisite lanterns and traditional fabrics for everyone. Laden with bags, we explored the Museum of Marrakech, the Saadian Tombs and the intricate architecture of the Bahia Palace.
What could possibly follow such a glorious afternoon, you might ask? A sunset camel ride among palm groves and orange trees, complete with happy snaps of our group wearing a colourful array of traditional Tuareg scarves, straight out of Arabian Nights.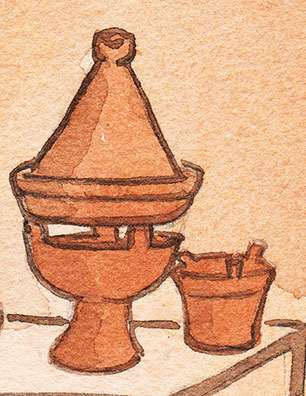 The next day we journeyed into the soaring Atlas Mountains, to the Kasbah du Toubkal for lunch. It wasn't your normal journey, mind you, as we rode mules through the quaint Berber village of Imlil, breathing in the crisp air surrounding rivers, walnut trees and forests.
Following our adventures into greater Morocco, further hands-on cooking lessons awaited, including those in a charming outdoor kitchen, with a thatched roof and traditional Moroccan bread oven.
Just when we were wondering if life could get any better, we experienced the spicy, savoury and slightly sweet chicken B'stilla, at a villa banquet under the stars. Surely, even Moroccan royalty never had it this good.
Your 10-day private journey through Morocco is filled with culinary experiences, hands-on cooking classes and unique cultural immersion.
Your 10-day private journey through Morocco is filled with culinary experiences, hands-on cooking classes and unique cultural immersion.