Northern Spain is synonymous with lush, green pastures, Atlantic coastal fishing villages and for being one of the great gastronomic regions of Europe. The restaurants of San Sebastian, for example, bear more Michelin stars per head of population than Paris. This tour is designed for the food and wine lover, taking in a marvellous cooking class and an unforgettable "tapas tour" of San Sebastian. An excursion to see the cutting edge Guggenheim museum, designed by the mythical architect Frank Gehry, is also included.
If you like to join a small group of like-minded travellers for cooking classes and also cherish your privacy. All tours outside of cooking classes are private with your own guide. It is the best of both worlds – convivial classes and travelling at your own pace!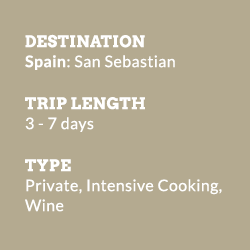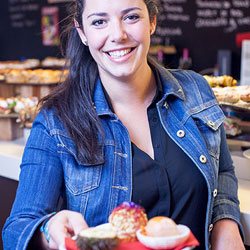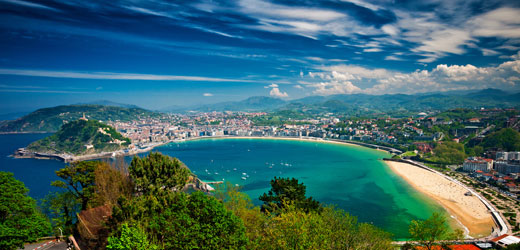 San Sebastián is the culinary capital of the world, with more Michelin stars per capita than anywhere else on the planet, a farmer's market six days a week and hundreds of bustling pintxo bars. Locals plan their day around where to eat and what to drink, and we aim to give you a taste of authentic San Sebastián, with an added dose of expertise.
The cuisine of Spain's gorgeous, lush Basque Country is considered to be one of the finest in the world. "Foodies" from across the planet make their way to this Gourmet Mecca every year, just to dine at San Sebastian's multitude of Michelin starred restaurants (Arzak, Alekare, Berasetegui, to name a few) and to try the tapas.
These famed "tapas" (called "Pintxos" in Basque Country) are small portions of traditional and creative Basque dishes. They're served right on the counter, with glasses of Rioja and Txacoli wines, at the charming, convivial bars, clustered around the pretty old town.
Your home during your stay in San Sebastian is a charming 25 bedroom hotel located in a renovated 19th century villa which has been declared a Historical Heritage Building of San Sebastian. This villa is an outstanding address for the discerning traveller, offering a harmonious balance between the warm and familiar atmosphere of a century-old home and the comfort and services of a luxury hotel.
For deluxe accommodation, the 5* hotel Maria Cristina, a Luxury Collection and one of Spain's grandest hotels, has just been refurbished and enjoys the highest luxury and best location in town.
From Euro 1,980 per person for double sharing
From Euro 2,580 for single occupancy
Airport Transfers
5 nights at superior room at boutique hotel****
daily breakfast
guided Tapas (Pinxto) tour including tastings (day 1)
hands-on cooking course, recipes including lunch with wines
full day guided wine tour to Rioja
hands-on class on Iberian ham & Sherry tasting
return transfers to Bilbao
gourmet dinner at Arzak (3 star Michelin restaurant; booking only)
Travel to and from San Sebastian, meals and optional excursions not listed, museum entrance
There are direct flights from the UK to San Sebastian and Bilbao. For international flights, it is easiest to connect in Madrid. Hiring your own car is not necessary as we provide transports during this programme.
Arrive in San Sebastian and transfer from the airport to your hotel
In the early evening, we will pick you up for your pinxtos tour and introduction to the world of delicious Basque food: Start time: 18.30 End time: 20.30
Get ready for dining on a selection of the very finest pintxos (tapas) in San Sebastián. Using our expert, up to the minute knowledge, we guide you on an informal and inspiring culinary experience, hopping-from-bar-to-bar on an evening of eating and drinking your way around the old town of San Sebastián.
As recommended in Conde Nast Traveller "Jon's tailormade tours of the finest pintxos bars not only cut out the possible disappointment factor inherent in going it alone, they also cut to the chase with the little-known, atmospheric down-home places, the upscale avant-garde places and the speciality pintxos that only locals know about."
Day 2 – Basque Cooking class
After a sumptuous breakfast, we will take you by small boat to the quaint fishing village across the harbour of San Sebastian for your Basque cooking course.
From fish filleting to making the most emblematic dishes of the region, this unique hands-on class focuses on seasonal fish and seafood of the highest quality. The class is followed by a gourmet lunch with wines.
Our chef Alex has over 20 years experience including three years at the three-Michelin star restaurant Akelarre. His warmth and encouragement will leave you with a lasting memory of a unique half-day experience inside his restaurant.
Start time: 10.30 End time: 15.00 Afternoon and evening at leisure.
Day 3 – Private Wine tour to the Rioja
After breakfast, pick up by our guide for a full day private wine tour to the beautiful Rioja (8:30am – 18:30pm)
From state-of-the-art construction and modern architecture to family-run vineyards with wines aging in 16th century cellars, we witness the spectrum of winemaking in a single day. Jenny Siddall, our in-house wine guide with over six years of experience in Rioja wineries, accompanies you throughout the day. Expect to increase your wine knowledge, sample lots of wines and witness dramatic scenery on this special wine adventure to La Rioja.
Full day includes: Bilingual guide, 3 vineyard tours, full tastings, light breakfast, gourmet 4-course lunch with paired wines, private transport, refreshments, tasting notes
Day 4 – Iberian ham & Sherry tasting
Morning at leisure to explore the beautiful old town of San Sebastian, visit the new San Telmo Museum which occupies a beautiful 16th C convent or enjoy the beach.
In the afternoon, your culinary extravaganza awaits (4-6pm)
Led by local master ham cutter Sylvain, one of Spain's top carvers, this special hands on class offers the chance to learn the secrets of one of the world's top natural products – Iberian cured ham.
Dazzle your friends at your knowledge of the Iberian pig, learning about its natural eco- system, how it is cured and the skills required to cut it by hand. Throughout, you will be eating superb, thin slices of the Iberian cured ham.
Such a wonderful natural product pairs perfectly with a chilled glass of Spanish sherry. So, we sample three contrasting Sherrys and enjoy them with plenty of ham.
The class finishes with the chance for you to show off your cutting skills with a unique opportunity to cut the ham by hand yourself! No experience is necessary but a steady hand helps and guests liken it to playing the violin! A prize is awarded to the best cutter so make sure you concentrate!
Dinner at leisure.
Day 5 – Guggenheim Museum in Bilbao and 3* Michelin dinner at Arzak
Transfer to Bilbao. Spend the day visiting the famous Guggenheim museum – an amazing museum of modern and contemporary art, designed by Canadian-American architect Frank Gehry, built by Ferrovial, and located in Bilbao, Basque Country, Spain.
Instantly hailed as one of the most important structure of its time, Frank Gehry's Guggenheim Museum Bilbao has celebrated more than a decade of extraordinary success. With over a hundred exhibitions and more than ten million visitors to its credit, the Guggenheim Museum Bilbao has changed the way people think about museums, and it continues to challenge assumptions about the connections between art, architecture, and collecting.
Lunch overlooking on a beautiful terrace overlooking the museum.
Afternoon leisurely visit of the old town of Bilbao before transferring back to San Sebastian.
In the evening enjoy a gourmet dinner at one of the famed three-Michelin star restaurants.  For a behind the scene, tour the kitchens or even dine at the kitchen table.
Breakfast and explore San Sebastian at your leisure. Transfer to the airport and departure.
"Jon's tailor-made tours of the finest pintxos bars not only cut out the possible disappointment factor inherent in going it alone, they also cut to the chase with the little-known, atmospheric down-home places, the upscale avant-garde places and the speciality pintxos that only locals know about."
Conde Nast Traveller
"Innovative ways of opening up San Sebastián culinary scene to outsiders"
Financial Times