20 fantastic years
Our mission is to create one-of-a-kind experiences for food lovers who want to see the world a little differently.
Special ingredients that make our trips unique:
Amazing Food & Wine
There will be always amazing food, whether you are cooking with a Michelin-starred chef in France or preparing a feast with a local mama in a Tuscan farmhouse. For us, it's all about the experience. Itineraries are carefully created itinerary allowing you to sample both a region's most refined cuisine and its most rustic traditions.
Our wine tours are private and tailor-made tours of wineries and include access to fantastic wines and barrel tastings. We stay far away from public tours and large commercial wineries and rather have you discover small but fine family producers.
Of course we also have great connections to top growth Chateaux if that is your preference.
Our chefs and guides
Our chefs and guides are the heart and soul of any Gourmet On Tour itinerary. They understand extraordinary travel experiences—and what you have to do to make them happen. They are eclectic, creative, caring, wonderful travel companions, incredibly well-connected hosts. And love to share their secrets of the region.
Our chefs are prepared for both the eager novice, the experienced home cook. The atmosphere in the kitchen lends itself to learning and participation leavened with fun!
Our trip designers and travel advisors
It takes a lot of enthusiastic, dedicated people to create culinary trips around the globe. We're lucky to have talented trip designers from the US, Europe and Asia at Gourmet On Tour who are extremely well-travelled and know our destinations first-hand. With our combined geographic knowledge, plus a myriad of languages, culinary experience, cultures and locations under our belt, we can (almost) always find what our guests are looking for.
Stunning destinations & Cultural Connections
Each location is selected for its character and individuality, to make you feel at home and gain a genuine feel for the region as an invited guest and not as a tourist. Each route is carefully designed to immerse you in the local culture and reveal a region's true spirit.
Our current destinations include incredible locations in Italy, France, U.K., Ireland, Spain, Morocco, China, Thailand, Vietnam, India, Sri Lanka and the U.S.
We focus on maintaining a personal touch and one-on-one relationships with smaller and specialised partners around the world.
What does this mean? You will get the latest and most thorough advice from local experts whose knowledge, attention to detail and passion for their home country, making destinations unforgettable.
Unique accommodation
Our accommodations are unique and capture the spirit of the region.
Whether a converted farmhouse, a 16th century Renaissance villa, a stunning chateau, charming guesthouse or a design boutique hotel, our accommodations are intimate, rich with history and are hard to leave.
And we happen to know which rooms are the best in each property too.
Many of our hotels are family owned where the owners often take you to an exclusive wine cellar or share their favorite spot of the region.
Your choice. Your Travel Style.
It's all about you. Our trip advisors will ensure you find the perfect itinerary, suitable for your travel preferences:
We cater to cooking enthusiasts or even professional chefs.
Those who like to just taste but not spend time in the kitchen.
We take in account special dietary requirements.
Wine connoisseurs, wine collectors, introductory to wine or non-drinkers.
Families with small kids or teenagers we need to delight and keep interested.
Travel with us for a weekend, a week or even just a day.
A social experience, joining a small group. Average group size being 6, max 10, ensuring individual attention.
Or, a private itinerary, tailor-made just for you.
Insider Access
We know the back-door to amazing kitchens and cellars around the world.
That special ingredient: Expect the exceptional
Dine at the chef's table in world-famous kitchen in Spain. Find a prized truffle during your hunt in France. Cook in an ancient abbey in Tuscany where family recipes have been handed down for centuries. Bake bread with the Berber ladies in the High Atlas Mountains of Morocco. Have a picnic on the Great Wall of China during sunset.
In brief, a Gourmet On Tour culinary vacation is an unique insight into a local culture with many exceptional encounters and delicacies along the way!
Don't just take our word for it.
Visit our Testimonial Page to see how much clients have enjoyed themselves on their trips. Or take a look at our media page for write-ups around the world and judge for yourself.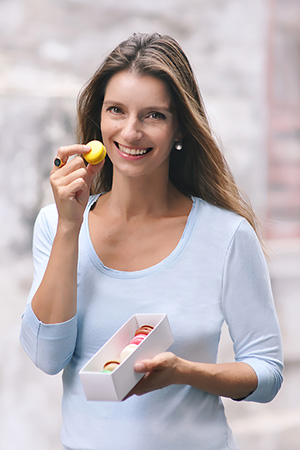 Judith von Prockl
Founder and Managing Director