Discover the splendours of Provence in the company of our Michelin-starred Chef. Learn secrets of Mediterranean cuisine, visit colourful markets and explore the Southern France with its rolling hills, vineyards and stunning coastline.
The course is held in a restored farmhouse with its own Provencal garden, providing herbs and vegetables used in the dishes you will prepare and savour
If you prefer to travel at your own pace with our local guides, our private trips are for you. Our French cooking tours focus on immersion into the local culture. We introduce you to local experts who invite you into their culture and kitchens to participate.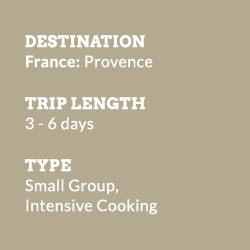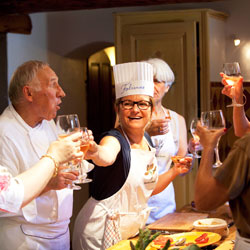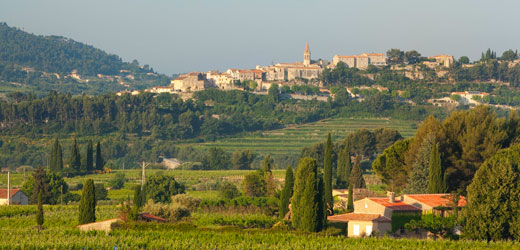 Nestled between mountains and sea, the Var is a strikingly diverse region known for dazzling natural beauty — rolling hills, rocky cliffs, thick forests — and 270 miles of Mediterranean coast. To the north, quiet villages perch on hilltops; to the south, the influence of the sea is unmistakable. In Bandol, with its fleet of tuna-fishing boats, you'll find the oldest vineyards in all of France, dating to 600 BC. Food and wine play a major role in the lifestyle here: Dozens of roadside vineyards offer tours and tastings, while truffles and honey provide a livelihood for many villagers.
You are only a short trip away from the sea, the islands of Porquerolles and Embiez or the mini fjords of Cassis. Visit Sanary, Bandol markets and local vineyards….
About the cooking course/ chef
Born in this very village, Michelin-star Chef René Bérard's innovative cuisine is based on the traditional flavours and fragrances of Provence and the Mediterranean, and cooked using the finest Provencal products. The "cuisine of the sun" is Chef Berard's passion and a formidable way of sharing his love of the Provencal terroir and traditions with his guests. The chef's cuisine reflects to perfection the seasons of Provence, and the program offers an exceptional introduction to his skill and craft. Although Chef Bérard has won numerous awards and is held in the highest esteem by his peers, his true love is teaching and creating the same passion in his students.   Lessons are taught in the "Bastide des Saveurs," a small house wonderfully outfitted, surrounded by exquisite herb and vegetable gardens. Daily courses begin with a demonstration followed by a hands-on class, with preparation of the gourmet dishes for a delicious Provencal lunch under the trees or in the beautiful dining room of the Bastide. Every evening except for the welcome dinner are free at leisure. Excursions may include a local French market, wine tastings at the local vineyards, meeting with the local fishermen at the harbour, walk in the olive groves and surrounding picturesque villages or beaches nearby.
A cluster of beautifully-restored old buildings, including an 11th-century monastery,
is tucked away in the ancient Provencal village of La Cadière d'Azur. Each room is decorated in delightful Provencal style, overlooking the surrounding hills and majestic Bandol vineyards.
The hostellerie and cooking school is surrounded by its own herb garden and also boasts a swimming pool, where you can simply relax in the sun….
Cooking in Provence
( 6 days/ 5 nights) 
15 – 20 April – sold out
13 – 18 May
10 – 15 June
1 – 6 July – sold out
2 – 7 Sept – sold out
7 – 12 Oct – sold out
Chef's Hats, Vines and eBikes
(4 days/ 3 nights)
13 – 16 May
10 – 13June
01 – 04 July – sold out
02 – 05 Sept – sold out
All arrivals are on Sunday for welcome dinner.
Prices per person in Euros
Cooking in Provence  (6 days/ 5 nights) 
Single 1,824
Single (June, July) 1,934
Double 1,494
Double (June, July) 1,612
Non-cooking partner 895
Non-cooking (June, July) 915
Cooking & Biking (4 days/ 3 nights)
Euro 985 pp
Single supplement: Euro 90 p.n.
Cooking in Provence

Five nights accommodation, single or double occupancy
Daily breakfast
Welcome dinner on Sunday
Four days hands-on cooking
Recipes with English translation
Three afternoon and one morning excursions as per itinerary:  vineyards, honeybees farm, olive mill, market
Four lunches with drinks
Graduation
For non-cooking guest: welcome dinner, accommodation, breakfast. Welcome to join lunches at an additional fee.
Cooking & Spa

Three nights accommodation, double occupancy
Daily breakfast
Two dinners at Michelin starred restaurant
Half day hands-on cooking with lunch
Recipes with English translation
Afternoon Spa with 1 hour signature treatment pp
Cooking & Biking

Three nights accommodation, double occupancy
Daily breakfast
Two dinners at Michelin starred restaurant
Half day hands-on cooking with lunch
Recipes with English translation
Afternoon Spa with 1 hour signature treatment pp
Full day guided bike tour with eBike (Electrically-Assisted Bicycle) discovery tour with our expert guide, through the vineyards and olive groves in the region.  Includes wine tasting of 5 wines at the fabulous Mouline de la Roque, Picnic lunch prepared by our Michelin star chef.
Cooking in Provence
Travel and transfers to and from France and hotel/school
Drinks with dinners
City tax (Euro 1 per day pp)
Cooking & Spa
Travel and transfers to and from France and hotel/school
Drinks with dinners
City tax (Euro 1 per day pp)
Cooking & Biking
Travel and transfers to and from France and hotel/school
Drinks with dinners
City tax (Euro 1 per day pp)
The closest airport are Toulon (40km), Marseilles (60km) or Nice (130km). The nearest train station is St. Cyr sur Mer. We recommend to rent a car. If you prefer not to drive, we can arrange transfers from airport or train station.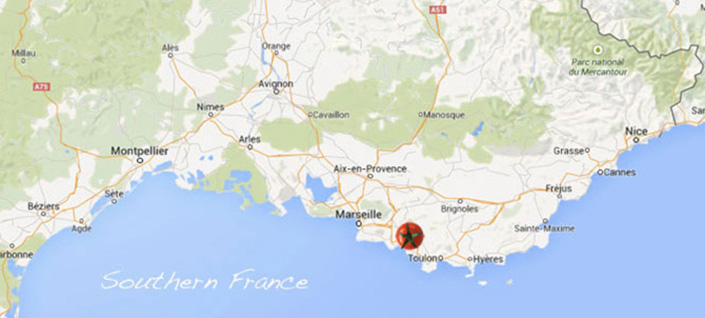 Classic cooking in Provence (Sample Itinerary)
Arrival in Provence – check into hotel – welcome dinner in Michelin-starred restaurant
Morning cooking class – afternoon at leisure
Fish market – morning cooking class – afternoon vineyard visit
Morning cooking class – afternoon visit to olive producer
Morning cooking class – afternoon at leisure
Breakfast and morning to explore the village. Departure before noon.
Confidence to try new things
"Really relaxed and informal, cared for in a genuinely intimate way. A small glimpse into a lifestyle I'd like to become permanently accustomed to!
Lovely place, great food, charming and generous company, glorious weather, and aperitifs every day in the sunshine!
A cosseting place, with a garden I'm very envious of, that is clearly the result of a lot of hard work and attention (as is everything about the holiday). The chef is very imaginative. He demystified many things as well as helping in both practical advice and confidence to try something more complex."
Louise S., London, UK
Postcard-gorgeous
" My mom and I had a wonderful time in Provence. The setting for the cooking course was postcard-gorgeous. The garden surrounding the Bastide, where we had our lessons, was lush, beautiful, and full of fruits, vegetables, flowers, and fragrant herbs.
We enjoyed the cooking classes immensely – we appreciated that we weren't just listening or doing menial tasks, but actually preparing each and every step of the 3-course lunches that we enjoyed each day. The food was absolutely delicious – the dishes we created are sure to impress my friends, yet are possible to recreate at home. I have nothing but wonderful things to say about the chef – he was a fantastic teacher, very patient, kind, and fun to work with. I could hardly believe that a Michelin-starred chef was sharing so much knowledge with us and then sitting down to a lovely meal with us each day. He was always happy to answer all our questions and seemed to be having as much fun as we were.
Also, the translator, Miriam, added immensely to the experience – the way she worked with the chef was very natural, and she had a lot of knowledge about the region, Provencal history, culture, and cuisine to share…..
Finally, I especially enjoyed the "extras" and field trips, such as when the chef showed us around his garden, picking herbs for us to smell, and the morning when we travelled to a nearby coastal town to visit the fish and produce market……
All in all, it was definitely one of the most enjoyable, memorable vacations I have ever had. The location and the cooking course were even more incredible than I had dreamed they would be. Thanks so much!"
Colleen K., California, US
Much more than I imagined
"The cooking course and the stay were wonderful. Much more than I had imagined it would be and just what I was looking for.
The professionalism and reputation of Mr Berard was unexpected, not to mention the 'three hat' restaurant.
Breakfast every morning looking out at Provence was pure luxury. I loved visiting the surrounding countryside and beaches.
The hotel was very comfortable and well organised by the extra-ordinary energy of Mr Berard."
Yvonne T, Australia
Stepping into a different world
" The cooking course was a wonderful interlude and I am very pleased I went.
The setting — the village of La Cadiere d'Azur — is simply magical; a marvellously preserved medieval gem. It, alone, is worth the journey. The Hostellerie is delightfully in keeping with its surroundings, while lacking nothing in modern comforts. And what a position — those panoramic views from the restaurant! I must mention the staff — they conduct themselves with aplomb, and in a friendly and unforced way they both accommodated my broken French … and were themselves happy to speak in English.
Pleasingly, the strong sense of place — Provencale — along with echoes of long-cherished tradition, is carried through to the bastide where the cooking itself takes place. There is a true sense of stepping for a few days into a different world, away from the meaningless noise, rush and sameness of our more familiar world.
M. Berard himself embodies all the Provencal virtues — full of charm, bonhomie and, of course, most knowledgeable about his topic — the food of Provence. He is a most likeable man and it is a pleasure to spend a few days in his company. I learned a great deal from him and I came home with my culinary knowledge much enriched. And I had a very good time doing it.
I was the only non-French speaker attending the course last week. I did not find this a problem. Being surrounded by the French language in the kitchen somehow contributed to the atmosphere. At the end of the week I told M. Berard – in French! – that if I stayed for three weeks I would be speaking entirely in French. Nevertheless, I very much appreciated the presence of Miriam, a delightful woman, to help with translation.
…I would love to go back.
Thank you for the part you played in the smooth conduct of the arrangements."
Lester V, UK
Everything was perfect. Passionate Chef.
"I had such a wonderful time. Everything was perfect. The hotel was beautiful and the staff was warm, friendly and more than accommodating. Chef Berard made us feel so comfortable. It was so nice to see someone who loves what they do and is so passionate about sharing it with others.
I am back to the "real world" and stil catching myself smiling thinking about my experiences there."
Jenny C., US
Wonderful experience
"We loved the cooking course in La Cadiere and have shared your website with many friends since returning home. The setting was so beautiful and Rene and Mirian were wonderfully patient and accommodating…..the friends we made, the setting and the yummy food made it a wonderful experience…. Thank you for everything and hope to come on to another course sometime in the future!"
Diana & Trevor, New Zealand
Enjoyable vacation to rest and to learn at the same time
"Provence is fantastic.
For a novice like me, it was definitely a relaxing and enjoyable vacation to rest and to learn French cuisines at the same time. Provence is so awesome. La Cadiere d'Azur is wonderfully located on a hilltop with a perfect view of the surroundings. The Bastide, where we had our lessons and afternoon meals, is a wonderful place to spend a few days.
The course is well-rounded to cover meats, fish / sea foods, vegetables and desserts. Tuesday morning visit to Senary to buy fishes was fun. June is definitely a good month to visit this region before the Summer heat arrives in July / August. Jean Francois, the son of Rene, was wonderful, energetic and hands-on."
Kok-Loong C., Malaysia
Great teacher
"It was wonderful. Chef Rene was a great teacher and the translator Miriam was just as accomplished….. can't wait to try the recipes."
Kathie L., US
Beyond my expectations
"The Hostellerie and the cooking course went beyond my expectations! Because it is a family run business, everyone seemed invested in our well being and experience. Rene is a dear man. . . kind . . .patient. . . with indefatigable energy! He was so helpful to my daughter (a non-chef) and sparked a hopefully life long interest in Provencal cuisine. We were both so appreciative of his expertise and demeanor. I just kept wanting to hug him! Besides the Hostellerie itself, the location is superb for touring north and south. Miram, our translator, was like a friend after a day, and helpful to us in every way. Tous c'etait magnifique!!!
Lucinda M., US