Our Moroccan cooking school is located just outside the ancient imperial city of Marrakech, a walled garden city of tall graceful palms set beneath the snow-capped Atlas Mountain range. About ten minutes from the medina, you will find the Palmeraie, a grove of over 150,000 towering palm trees. It is here you will find the luxury villa, aptly named the 'house of green mint.'
The combination of luxurious hospitality, fine food and wine, and an enthusiastic staff are necessary ingredients for, "one of the best vacations we have ever had," as many of our recent guests tell us.
Solo travellers, couples or friends, who like to join a small group of like-minded travellers to share the experience with. If you are looking for daily cooking classes and adventure and don't want to worry about logistics – we take care of everything!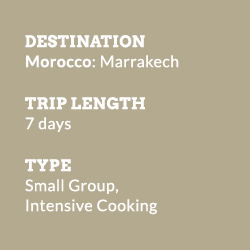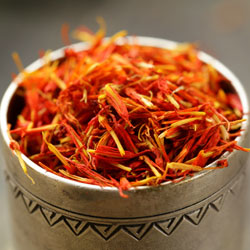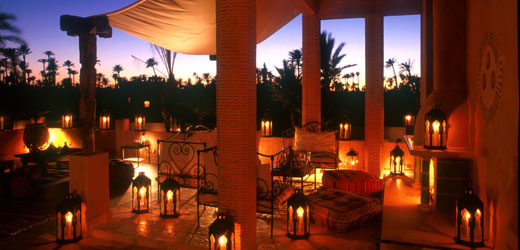 Marrakech, the former capital and perhaps the most famous Moroccan city of all, is centrally located at the base of the snow- capped Atlas Mountains. Marrakech began as an oasis where water was abundant for the caravans of old after crossing the vast Sahara and the high Atlas. At an elevation of 1500 feet it remains an oasis of wonderful weather with clear dry air infused with North African sun.
The red walled city was founded almost 1000 years ago. Within the old red walls of the city and the labyrinth of busy streets, is a humming core known as the Djemaa el-Fna square. Djemaa-el-fna, dominated from a distance by the city's most prominent landmark, the Koutoubia Mosque, is a jumble of jugglers, story tellers, snake charmers, magicians, herb and potion vendors, knickknack sellers, acrobats, benign lunatics and rows and rows of mouth watering food stalls. Even more spectacular in the evening, this incredible carnival atmosphere has attracted farmers, traders, thieves, slaves and just about every possible species over the centuries. Many aspects remain as they have been for centuries and visitors can almost touch the history of Morocco and its daily life here in Marrakech.
If you can tear yourself away from all this, Marrakech offers a variety of activities and attractions. There are amazing treks into the glorious Atlas mountains or, depending on your favourite mode of transport, you can choose between camels, horses and off road bicycles to explore the Palmeraie, a grove of over 150,000 towering palm trees. You can visit the ancient quarter and delight in the beauty of the Palais Dar Si Said (museum of Moroccan art), the Bahia Palace and the Saadians tombs. With its fantastic sunny days and Jasmine scented evenings, its heady, exotic cuisine and its famous Souq, you are sure to fall in love with this city!
About the cooking course/ chef
Rich in both history and flavor, Morocco cuisine is one of the most exotic in the world. The sophisticated Moroccan palate arose as the country played host to travelers and rulers from such disparate lands as China, India, Spain and Persia and then, finally, from serving for 40 years as a French protectorate. In particular, the French influence remains. French is the second language of Morocco, and an air of French sophistication infuses the Saharan oasis with a European flavor. Our cooking school captures this richness in its Moroccan cooking holidays.
It is in this oasis and in our customized kitchen that you will join other cooking enthusiasts for a unique culinary vacation. Our local staff will pamper you and escort you to the colourful market. During the hands-on cooking lessons our expert chefs will introduce you to the exotic combination of ingredients and techniques that exemplify traditional Moroccan cuisine. You will learn first-hand how the fascinating history of this country has influenced its cuisine, and we will also introduce you to some of our own fusion recipes.
Traditional recipes:
Even the most jaded palates will respond to the delicious and astonishing blend of flavors that you will learn to create in your own kitchen with some great Moroccan recipes.
The Tajine serves as the framework for a college of ingredients, spices and styles. Imagine making Tajine de viande, Tajine des poissons, poulet aux olives et citron couscous, M'Choui (Spiced Roast Lamb), B'Stilla (the legendary centerpiece of every banquet), Harira (traditional lentil soup), Kseksu Bidawi (Couscous with seven vegetables), Matecha M'assala (Sweet To- mato Confit), Chakchuka (Grilled Pepper & Tomato Salad), Tajen Djaj bel Btata Lehleewa (Tagine of Chicken with Sweet Potatoes), salade Marocaine, cornes de gazelle (sugar-coated pastries with a delicate almond paste filling) and M'Henca (almond filled pastry), Beghrir (Mo- roccan Pancakes) or briaouts au miel covered in honey.
Simple and easy to prepare organic salads and vegetables take on an immediate exotic flavor with Moroccan recipes.
Weeks are available throughout spring and autumn:
March, April  (Easter week), May
Sept, Oct, Nov
Private groups only (minimum 4 guests).  Please request your preferred weeks.
Culinary student
Deluxe 2,325
Classic 2,145
Single room supplement 395
 Gourmet guest**
Deluxe 1,965
Classic 1,785
6 nights luxury accommodation
Hands-on cooking courses, recipes
All listed excursions
All meals, except for restaurant meals
Transfers to and from airport in Marrakech
** Gourmet guest is a non-cooking guest, who enjoys all meals, excursions and activities, except for the cooking
Trip length: 7 days
The villa is located in near Marrakech. We provide transport to and from the airport on arrival and departure days. No car needed throughout your stay.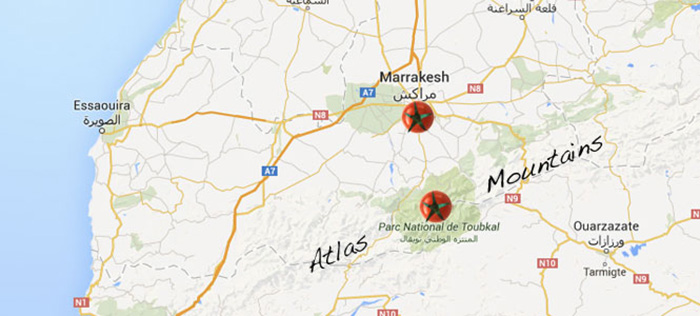 Arrival. Cooking course. Dinner.
Fly into Marrakech airport and transfer to the villa.
Relax and settle into your room – you may even indulge in a steam bath, hot tub or a swim after your long flight.
Late afternoon – For those of you who arrive before the evening, you will have your first hands-on cooking lesson when you'll cook your first Tajine in Morocco.
After breakfast, hands-on cooking lesson and preparation of lunch. Lunch served poolside.
Early afternoon: Depart the villa for a guided shopping tour of the souk in Marrakech Medina with someone to translate and negotiate for you. Feel free to roam and shop on your own if you wish, there will be a designated location to meet before departure. It is here in the Medina where you will also visit the Museum of Marrakech. The ancient medina is where the souk merchants will tempt you with their textiles, pottery and ceramics, carpets, rugs, jewelry, wood- work, copper, brass, basketware and leather goods.
Meet at Djemaa el Fna Square for a tour of the major historic monuments of Marrakech, including the Saadian Tombs and the Bahia Palace.
Evening special Champagne and cocktail hour with Moroccan musicians on La Terrasse des Berbères .
Dinner at the villa in the grand Salle à Manger.
After breakfast, hands-on cooking lesson, followed by lunch.
Afternoon: Free time at the villa to enjoy the botanical gardens, play tennis, have a massage, exercise in the spa, take a steam, swim or relax by the pool. You may choose to go camel riding in the Palmeraie or to take advantage of the equestrian facilities in beautiful the neighbouring Palmeraie Golf Palace or at beautiful Bab Atlas.
Early evening: hands-on cooking lesson outside at our unique exterior kitchen with thatched roof and traditional Moroccan bread oven.
Dinner under the stars.
After breakfast, depart the villa for the High Atlas mountains.
You will spend the day in the Atlas for an excursion to the Kasbah du Toubkal at Imlil. You will ride mules up to the Kasbah and follow an easy, charming route back through the Berber village of Imlil with its beautiful scenery, farms and rivers. The amazing view has been likened to Tibet and indeed, the Kasbah and its surroundings were used by acclaimed film director, Martin Scorzese, as the setting for his 1996 movie "Kundun", about the early life of the Dalai Lama.
Traditional lunch at the Kasbah du Toubkal Return to Marrakech and dinner at the villa in the grand Salle à Manger.
After breakfast, hands-on cooking lesson, followed by lunch Poolside lunch at the villa.
Afternoon to relax and enjoy the beautiful facilities of the villa, a bit of tennis, a steam in the Hammam, a workout in the gym, a dip in the hot tub or simply lounge by the pool. If you book in advance, you can treat yourself to a massage, an aromatherapy capillary head massage, or other salon treatments.
Late afternoon: hands-on cooking lesson Graduation Ceremony and formal dinner at the Villa.
After breakfast, hands-on cooking lesson, followed by lunch Poolside lunch at the villa.
Afternoon to relax and enjoy the beautiful facilities of the villa, a bit of tennis, a steam in the Hammam, a workout in the gym, a dip in the hot tub or simply lounge by the pool. If you book in advance, you can treat yourself to a massage, an aromatherapy capillary head massage, or other salon treatments.
Late afternoon: hands-on cooking lesson Graduation Ceremony and formal dinner at the Villa.
Breakfast and free-time at the villa and time to pack Buffet lunch
Depart for the airport throughout the day.
Thank you for sharing a special week with us!
"The cooking school in Marrakech was a fantastic experience for us. It would be hard to improve upon the setting. The villa is beautiful. The room was spacious and the bathroom was especially gorgeous.  The entire facility was spotless. Views from our terrace were outstanding and the grounds beautifully kept.
The entire staff went out of the way to be accommodating. From the Moroccan mint tea greeting at the door upon our arrival until the time of our departure, the staff was cheerful and helpful at every turn. The cook (Bushra) was delightful as well as extremely skilled. We liked the way she used all fresh ingredients and we discussed what equivalents could be found in the states for unusual items.  We appreciated the way the staff joyfully interacted with one another as well as with us. A lot of the charm for us was having the fountain turned on, having rose petals around, lots of candles…  We loved having fresh herbs and mint picked fresh from the garden.
The excursions to the Atlas Mountains, the Souk, and to other destinations in Marrakech were beyond our expectations. The driver, Dreez, took the stress out of getting around in Moroccan traffic.
We were pleased with Mustapha, our guide in Marrakech. He not only did a good job with the historical and sights of interest, but was a great shopping guide as well. The entertainment at the villa, which included two different musical groups and a belly dancer were excellent. We also enjoyed some extras such as a camel ride, a Hammam bath, and Sue enjoyed her massage and henna application. We give the course our highest praise and recommendations for anyone wishing to experience Morocco…. Gourmet On tour comes highly recommended by us…".
 H.Mather, US
It was absolutely fantastic!
Perfect accommodation and the cooking classes were very relaxed and fun. My wife and I had so much fun and met some wonderful people. We became like a family and will stay in touch….
I must say the stay and course exceeded my expectations and it was a perfect gift to my wife.
THANKS! "
Anders E., Sweden
Exceeded our expectations
"We had a wonderful time. Rafik and his staff made the whole week a very worthwhile adventure. The villa and the accommodations exceeded our expectations and the cooking classes were fun and very informative. Little touches like providing fresh bottled water in our room each day and whenever we left for an excursion were nice as was the mint tea and cookies upon arrival. The excursions were varied and enjoyable with very comfortable transportation provided. The food was delicious and very plentiful — too plentiful in some cases and we felt awkward not being able to eat as much as was provided us! —- All in all a wonderful eperience and would highly recommend."
Cynthia J., CA, US
Heartily recommended
"A great time! Cooking classes were informative and gave an excellent variety of Moroccan dishes. Staff were experienced and attentive. The villa, gardens, pool and Hammam were especially beautiful and restful. Can heartily recommend the total experience but expect to put on weight."
Ernie & Betty M., CA, US
More than we imagined
"My daughter and I have recently returned from the most fabulous experience in Marrakech. The cooking school was everything I imagined it would be and more! Rafik and his staff responded to and anticipated all our whims and wishes. Rafik is a great host and all of the staff are to be commended for their efforts, we just loved them. All in all, it was a delicious, relaxing and fascinating experience and I would recommend it highly to anyone."
Ros B., Australia 
Magical
"Our week in Morocco was magical.  The course was fantastic, the staff were so gracious and attentive and the location was out of a fairy tale…
Rafik treated us like royalty.  He went above and beyond to make our trip special and he totally succeeded.
Our week was so much more than what we expected."
Deborah T., US
Amazing.  Sensational.  Fun.
"Thank you so much!
Our trip was amazing and the staff were so helpful and really great.  The villa itself was sensational and the food was superb.
Both Rafik and his wife were the best hosts.  The cooking classes were interactive and fun.
All in all a great experience."
Paulomi B., Dubai
(leading a group of 7 guests)
Spectacular. Treated us royally.
"We can't say enough good things about the week spent at the cooking school.  For anyone interested in learning how to cook Moroccan food, this is the school to attend.  The grounds at the villa are spectacular.  Rafik is a terrific teacher and host.  He and his staff treated us royally.  Everything about the week was educational and lots of fun.  The excursions to the Atlas Mountains, the town souk, the medina, etc were very interesting and informative.  Our only complaint was getting on the scale at home and fulfilling Rafik's desire for us to gain lots of weight."
Fred H., US
One of the loveliest vacations we've had.
"This was one of the loveliest vacations my husband and I have had for a very long time – it was truly a trip never to be forgotten. The staff were so wonderfully gracious and made our stay so special. Fatima was patient and tried her best to answer our sometimes confusing questions. Hind and especially Yazeen, such sweethearts, truly made us feel like royalty with their care of us. All in all, we felt that the staff went out of their way to ensure we were well taken care of and we have never been so pampered in our lives!
It really was one of the best vacations we've had and we were both sad to leave when it was time to go.  Fatima, Hind, Yazeen are truly gems. "
Doreen Teh, London