The glorious coastline facing Capri is famous worldwide. Here are places of great beauty, fascinating monuments from Greek and Roman times and a bounty of fresh seafood and local produce. Villages cling to the cliffs rising straight from the iridescent blue sea. In this spectacular place we invite you for a week of culinary immersion, learning about delicious Southern Italian with our vivacious chef.
Travellers who like to join a small group of like-minded companions to share the experience with. If you are looking for daily cooking classes and excursions, and don't want to worry about logistics. We will take care of everything!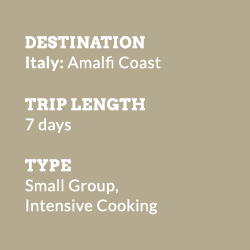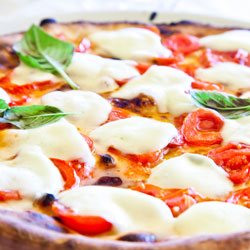 Stunning views, colourful history, beautiful architecture, and Southern hospitality characterise this famous coastline.
Your residence for the week is situated in S. Agata due Golfi, overlooking both the Gulf of Salerno and the Gulf of Naples and across the Mediterranean towards Capri, enjoying one of the most panoramic positions of the entire Sorrentine peninsula.
The location provides an ideal setting for those who wish to spend their holiday relaxing in a tranquil corner of paradise , yet just a short drive away from the bustling Amalfi Coast.  Laze around the pool, enjoy the sun and the splendid view. Or, explore the most beautiful beaches of the Gulf, delightful Sorrento, Positano, the Amalfi Coast and Pompeii, all just at your door-step.
About the cooking course/ chef
Our hands-on cooking courses are held in the school kitchen specially designed to make your holiday a perfect culinary delight. The kitchen is equipped with an ample granite bench and with every kind of kitchen tool imaginable, including an accessory set which is assigned to each student at the start of each course. Just a few steps away there is a big outside veranda, overlooking the Mediterranean sea, for breaks during the course.
Your chef for the week has been cooking since the age of 14, when she would spend a large part of her time, in the kitchen with her mother. All the dishes are made only with the freshest of ingredients according to the season and follow typical recipes that have been handed down for many generations.
In her lessons, you will learn the secrets for the preparation of typical Southern Italian and Sorrento dishes such as, gnocchi, pasta, authentic Napoletan pizza, artichokes, stuffed Napoletan style squid and other typical dishes of the Coast.
The courses are hands-on and specially designed to quickly and easily learn the secrets of the various dishes. Once back home, you will be able to easily repeat the preparation of the dishes and provide an amazing dinner that will impress your friends and family.
After each cooking lesson, we celebrate here together and eat the prepared dishes. During the long Italian summer meals are served al fresco, in the gardens. Our staff and chef speak English and will make sure you are entertained and completely relaxed, ensuring that you have an experience of your lifetime!
It is the perfect Mediterranean hideaway with just 12 rooms offering the utmost in tranquility and truly authentic Italian hospitality. Many of the stylishly furnished hotel rooms contain carefully selected antiques and painted ceramics dating back to the time of the villa's construction of 1892. All rooms have a small terrace or balcony. The 4 Junior Suites, take their names from the panoramic view facing Positano, Capri, Vesuvius or Sorrento. The magnificent Penthouse suite boasts an impressive terrace with stunning views of the Gulfs of Naples and Salerno.
The very personal service will make you feel like a welcomed family guest rather than a tourist, guaranteeing the best of holidays.
Our 4 and 6 night culinary weeks are available year-round upon request.
Arrivals are usually on Sunday and departure on Thursday or Saturday, however we can tailor the itinerary according to your dates.
Low Season: March, April, October, November
High Season: May – September
Number of nights
6 nights
4 nights
Supplement for Junior suite
400 Euros per person for 6 nights
300 Euros per person for 4 nights
Supplement for Penthouse
600 Euros per person for 6 nights
500 Euros per person for 4 nights
Supplement for Single room
350 Euros per person for 6 nights
250 Euros per person for 4 nights
Non-cooking companion 
less 270 Euros per person for 6 nights
less 200 Euros per person for 4 nights
6-nights include:
Six nights accommodations double occupancy in luxury room with ensuite bathroom
Transfer to and from Naples airport or train station
3 Hands-on cooking courses plus 1 pizza class
Daily breakfast
5 Dinners
2 Lunches, including one tasting lunch after the cheese demonstration
Dinner in gourmet restaurant
Excursions & food artisans visits:
Vineyards visit and wine tastings
Full day excursion to the Amalfi Coast with olive oil tasting
Full day excursion to beautiful Capri (weather permitting)
Excursion to Pompeii
Local wine, water and coffee included with all meals
Taxes and service charges
4-nights include:
Four nights accommodations double occupancy in luxury room with ensuite bathroom
Transfer to and from Naples airport or train station
2 Hands-on cooking courses
Daily breakfast
4 Dinners
Tasting lunch after the cheese demonstration
Excursions & food artisans visits
Excursion to beautiful Capri (weather permitting)
Excursion to Amalfi Coast with Olive Oil tasting
Local wine, water and coffee included with all meals
Taxes and service charges
Travel to and from Italy, any other meals, drinks and excursions not listed above. City tax (Euro 2 per adult per day), transportation to Capri
The villa is located near Sorrento.  Nearest airport and train station are Naples.  Transfers to and from Naples are included.
Pick-up from Rome airport is possible.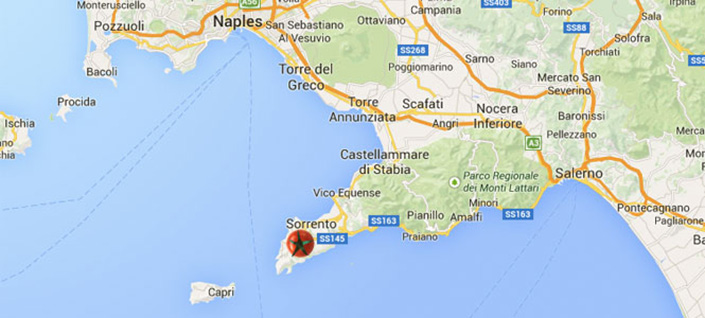 Arrival in Naples and transfer to villa – Welcome dinner at our elegant restaurant
Morning visit to local farm – Mozzarella production and tasting – Afternoon cooking class – Dinner at the Villa
Morning cooking class and limoncello making– Afternoon excursion to Amalfi Coast – Visit to olive oil maker with tastings – Dinner at the Villa
Excursion to Pompeii –  Vineyard visit and lunch – Afternoon at leisure – Dinner at one of Italy's top restaurant
Morning cooking class – Lunch at villa – Afternoon and evening free at leisure to explore or relax at the sea
Full day excursion to the Island Capri – Evening pizza baking and lemoncello making – Farewell dinner at Villa.
A dream come true
"A wonderful experience and Carmen is amazing . I want to come back. I had friends over for dinner sat night and we all made gnocchi and rolled eggplant!
The entire staff At the villa were so warm and friendly and the excursions were perfect as were the people who drove and guided us. It was a dream come true!"
Barbara and Pete C., US
Spectacular
"Carmen was spectacular. I can't imagine a better chef, better teacher, or a better experience for my friends and I. I have already recommended her to my friends and family for future classes – I've been trying to lose the 5+ pounds I (very happily) gained during my trip."
Nicole M., US
Perfect vacation
"The course was wonderful. Carmen and her team were so welcoming, so accommodating. She had plenty of extra recipes, sauces, etc and was very helpful in many ways. It was an absolute perfect vacation. I would recommend Carmen to anyone."
Amy L., US
Amazing
"My trip was amazing! The villa was beautiful, room was amazing and the staff were so lovely. Carmen was great fun and I loved the cooking classes. Was quite a packed week with day trips & cooking classes so we actually didn't get a lot of down time, but really was great! Just perfect."
Melissa F., Dubai
Terrific experience.
"I had a terrific experience. Carmen is a force of nature and I thoroughly enjoyed the classes and also the visits with local producers and the sightseeing that we did.
The hotel itself is gorgeous and the staff were lovely and made us feel very welcome and looked after us all through the week.
I was fortunate to attend with a group of lovely ladies and we had a lot fun.
Would have no hesitation in recommending this to anyone who enjoys cooking (and eating). The stunning scenery and coast around the hotel were an added bonus."
Anne F., Australia
We could live there forever
"Thank you so much lot for all your help on our trip. Everything worked great and all your advices were precious.
You were perfect with us!
And.. there is the hotel, Carmen and all staff. Well. It is difficult to put in words all of our emotions. The hotel is amazing, beautiful, comfortable, cozy and well maintained. The course was delightful and Carmen is great. Food is perfect in every way. And they were all so lovely with our boy! I can't tell you how happy we are. We can't tell you our emotions. It was a dream. It was not perfect just because we had to come back…We could live there forever!
Thanks, thanks, thanks.
Daniela, Marco and Miguel L., Brazil
Excellent
"The cooking courses were excellent. Both villas were very welcoming and the chefs and staff excellent. I had a really wonderful time and would highly recommend both."
Pam B., Australia
Truly magnificent time
"We both love food and wine, therefore, we feel this vacation was tailored made for us.
Neither one of us had travelled along the Amalfi coast before, so it was a new experience and we were not disappointed. We found the people so friendly that you could not help but fall in love with the area – the natural beauty of the Amalfi coast can really take your breath away.
While we have travelled extensively over the past few years, this vacation offered so much more than any other that we have experienced.
From the time the driver picked us up at the Naples train station on Sunday morning to the time he dropped us off again on Thursday, we had a truly magnificent time. The itinerary was extremely well paced with a combination of culture, cooking and relaxation. Moreover, through the Chef's connection within the local community, we experienced opportunities that would normally not be made available to the local tourist. 

There are no words to adequately describe the Chef – she is truly wonderful and quickly adapted the cooking classes to our needs and desires. Staying in the Sorrento area, I had requested that we make desserts with lemons and without hesitation, she adjusted the menu and produced three outstanding lemon desserts. She has a unique way of assessing everyones' level of culinary confidence/comfort, thus, more experienced home chefs who not need to be taught the basics can quickly move through the recipes as she shares great tips along the way. 

The Relais is a stunning property overlooking the Bay of Naples and the hotel and grounds are very welcoming. The chef and her team made us feel at home so much so that sometimes we forgot that we were actually staying in a hotel. Our room was very comfortable, we did not want for anything more.
The excursions to Fattoria Terranova, Quattro Passi and Lo Stuzzichino were excellent.
– Fattoria Terranova offered us a unique opportunity to visit the farm. We had an opportunity to make mozzerala cheese and see how they produce lemoncello. The family is very welcoming and offered us a sampling of the foods from the farm and local area. To really appreciate an area you must meet the people who produce the food. 
- Quattro Passi offered us an outstanding gourmet lunch. They went out of their way to make us feel welcome by opening their restaurant on the one day that they are closed, this was only made possible by Carmen's relationship with Quattro Passi. The multi-coursed meal they offered us was truly spectacular and worthy of their Michelin stars. 
- Lo Stuzzichino, a family run restaurant which very warmly welcomes you from the moment you enter the door. We had the opportunity to sample two lunches and were not disappointed, in fact we were very impressed. 

The excursion to Pompeii was something we both wanted to see. By travelling off season, we had the unique opportunity to visit Pompeii when there are very few tourists. Our guide was very informative and took the time to show us sites which normally would have been missed.
We would most definitely go back! We would highly recommend "Tastes of the Med" – you will not be disappointed. We are very much looking forward to our next cooking vacation with Gourmet on Tour. Thank you."
Susan and Norman J., UK
A delight. Delicious. Amazing.
"From start to finish the whole experience was so enjoyable. The hotel is in a beautiful position with fabulous views, Chef Carmen was a delight and all her staff friendly and nothing was too much trouble.
The cooking classes were very informative and such fun, we were 5 in our group which was perfect. The food we produced was delicious.
The trips were very enjoyable and interesting, we had good weather which added to the pleasure of seeing this beautiful part of Italy. The visits to the farm and the vineyard were very personalised, I particularly enjoyed the visit to the farm where we watched Rosa make 2 different cheeses and had hands-on experience of helping her in her kitchen.
Our evening dinner at Quattro Passi was amazing – the food the location the service impeccable.
I would certainly recommend this holiday, it was well organised and very enjoyable."
Jackie P., UK