The North-west corner of France is a mix of spectacular coastline, rolling hills, magical islands, Celtic culture and rich tradition, gastronomy and friendly people. Brittany rewards visitors with hearty delicacies and world-renown seafood, and with its famous Breton crepes washed down with local cider.
Join us for one of the best cooking courses in France;  an intensive culinary class, guided by our wonderful Michelin-star trained chef and discover the real Brittany.
Travellers who like to join a small group of like-minded companions to share the experience with. If you are looking for daily cooking classes and excursions, and don't want to worry about logistics. We will take care of everything!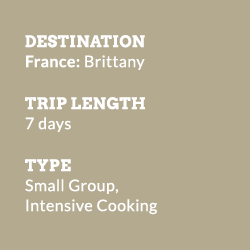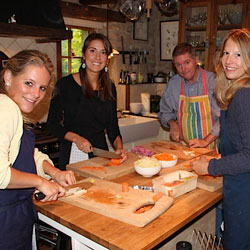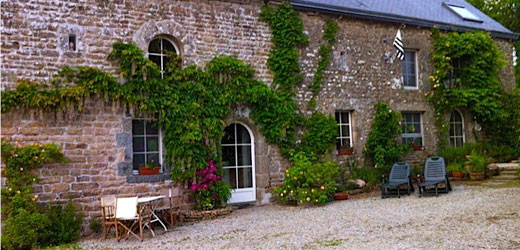 Beautiful Brittany
Brittany is renowned for the quality and variety of its seafood. Cancale oysters and scallops are sought for their unique taste and culinary delight. Brittany is also famous for a whole range of wonderful dishes from the famous galette buckwheat pancake to the "Far Briton", a local custard cake. The mussels and lobsters of Brittany are considered the best in the world. The region is also known for its artichokes, ciders and local cheeses as well as its locally produced calvados or "eau de vie" – the water of life!
Brittany is also famous for its extraordinary coastline, its medieval castles, towns and villages. Great tracts of original forest remain where wild boar roam. The forests also contain bountiful supplies of ceps (Porcini), girolles (chanterelles) and other mushrooms in season.
Our location
We are located in one of the most beautiful unspoilt places on earth. The roads are free of traffic. The night sky is free of light pollution. The gently rolling hills of Le Mené are delightful for both cyclists and hikers with their extraordinary collection of hidden medieval hamlets and friendly locals. Enter any bar here and males are expected to shake the hands of all other males present and kiss all females twice on the cheek. You may come as a stranger but you will leave as a friend.
We are positioned within a few hours drive of two of the top tourist destinations in France. Le Mont St Michell to the north and Carnac to the south. Other exciting places to visit on your trip to Brittany include the famous walled town of St Malo, the medieval towns of Dinan, Josselin and not forgetting one of the best food markets in France (Marché des Lices) at Rennes on a Saturday morning. Prepare to be bowled over by the sheer variety of seafood and products on offer.
About the cooking course/ chef
The class sizes are kept to a maximum number of eight
Everyone cooks hands on with our Michelin trained chef
All classes are in English
Your cooking class will be held in a beautifully restored 16th century royal residential mansion.
The course is focused on gourmet quality French and modern European cuisine. Menus will vary depending on markets and the season but in general the class will undertake food preparation for full lunch and dinner at the school each day to include starter, main course and dessert/cheese with wine, expert guidance on specialist areas including fish, seafood, shellfish, meats, game, cheeses, soups, sauce preparation, stock making, baking, breads and pastries smoking, preserving, menu planning, table setting, wines and the use of knives and kitchen equipment. Recipes, menus, and sumptuous gourmet meals with wines are included. The course concludes with certificate and graduation dinner.
Whatever your level, we will ensure you gain key skills whether it be preparing lobsters, smoking salmon, making sorbets, mousselines, pastries, sauces, ice creams, garnishes and the best of the wonderful French cuisine to turn you into a competent and confident home chef.
You will gain lots of culinary tips and knowledge which can only be acquired from working alongside highly skilled and experienced chefs. All meals taken at the school are to Michelin standard. Guided tours to food markets and beautiful medieval towns arranged.
Specialist menus available on request. Groups catered for on arrangement. Ask us about our private dining options.
Other things to do:
Visit some of the 4,000 stunning chateaux, manors and medieval homes
Explore the rugged coastlines with some of the world's most breathtaking views.
Visit Saint-Malo, an ancient seaside town with cobbled streets and brimming with restaurants.
Dinan, one of the prettiest medieval walled cities in France with its 15th-century half-timbered buildings and cobbled streets.
Fougeres with it's chateaux was frequented by Chateaubriand, Balzac and Victor Hugo.
Brest's most famous must-see draws are the Recouvrance Bridge, Brest Castle, rue de Siam and well-known seafood restaurants.
Marvel at Mont-Saint-Michel, a UNESCO world Heritage site with incredible 360-degree views.
Indulge in Spa seawater treatments, France's famous Thalassotherapy was born in Brittany.
Enjoy a large arrays of outdoor sports, especially on the water. With its situation on the Atlantic, this is an ideal vacation spot for sailing, kayaking, canoeing, surfing and scuba diving.
This is a famous cycling area. Electric Bicycles are available to hire (20 Euros per week) on request. Ask about our selected cycle routes.
There are a variety of wonderful places to stay around our cooking school: The local village gites either walking distance or a couple of minutes drive from the cooking school and have either 2 or 4 bedrooms with large lounges and lovely gardens or beautiful courtyards.  For those located in the next village, we arrange complimentary transfers.
Alternatively, choose to stay in a boutique hotel 10 min drive away, or  luxurious guesthouse in a magnificently restored nineteenth century chateau in the heart of the Côte d'Armor in Brittany and set a delightful castle park. The chateaux is approx. 20 min drive from the cooking school.
7 day/6 nights intensive cooking course.
Arrival is on the day before the class (Sunday) and departure in the morning after the last class and farewell dinner (Saturday).
Additional cooking class weeks for private groups are available upon request.
2023
1 – 7 Oct
15 – 21 Oct
29 Oct – 4 Nov
12 – 18 Nov
3 – 9 Dec
29 Dec – 3 Jan 2024
2024
10 – 16 March
24 – 30 March
7 – 13  April
21 – 27 April
5 – 11 May
19 – 25 May
9 – 15 June
23 – 29 June
7 – 13 July
21 – 27 July
4 – 10 August
25 – 31 August – full
8 – 14 Sept
22 – 28 Sept
6 – 12 Oct
20 – 26 Oct
3  – 9 Nov
24 – 30 Nov
8 – 14 Dec
29 Dec – 4 Jan 2025
from:
Euro 1,990 per person, based on double occupancy
Euro 2,090 per person, based on single occupancy
Euro 1,190 for teenager (15-18 years), accompanied by adult
6 nights accommodation, twin or double occupancy
5 days hands-on cooking courses
Welcome dinner and champagne
Four lunches  and six dinners at the cooking school
Walks & guided tours of local food markets as per itinerary
Non-participating partners are welcome to join the meals and excursions. Please enquire.
travel to and from cooking school in France
–
Rennes is 1 hour away with links to Eurostar in Paris and Charles de Gaulle Airport as well as direct flights to Paris, Edinburgh and Dublin.
Dinard Airport is a 40 minute drive with Ryanair links to London and East Midlands. Nantes Airport has direct links to Dublin, East Midlands, Leeds Bradford, and Marseilles.
St. Malo port and the wonderful seaside resorts of Val Andre are only an hour away.
Paris is 3 hours via rail to Rennes. We offer a free pick up and drop off at the railway station of Lamballe.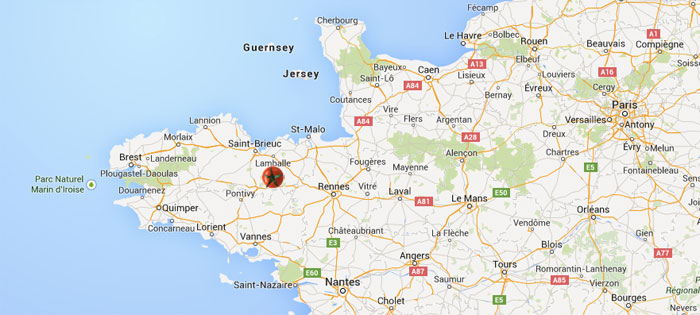 Arrival in Brittany in the afternoon – Welcome dinner at the cooking school around 7pm.
Day 2-6 (Monday – Friday)
Daily cooking courses in the morning, followed by lunch  and  late afternoon cooking course, followed by dinner.   We take a break each day between 2:30-5:30pm where you can rest or explore the surrounding villages and country side.  Bring comfortable walking shoes!
On Thursday there is no class in the morning, allowing guests to venture further and perhaps visit the beautiful town of St Malo or UNESCO site Mont St Michel.   Back to the cooking school in time for the late afternoon class and dinner.
Farewell dinner with graduation ceremony on Friday
"Best food and wine holiday destination for Brittany in 2014"
Daily Telegraph
One of the best holidays I've ever had
"Wow, wow, wow. I am so happy that you found this for me. This was one of the best holidays I've ever had. My friend and I are still talking about the experience. The hands-on aspect of the course is so crucial to help me learn and we were definitely hands-on. The first thing I did when I returned home was cook a chicken stock which we did at the start of the week of the class … and the hours (mostly unattended) are worth it. Poul is fantastic both as a person and as a chef. I learned new techniques such as filleting a skate fish and boning chicken legs (used for chicken stuffed with langoustines – yum yum). The sauces, though quite buttery, were amazing….. The food we prepared was varied and seasonal which I appreciated. Poul answered questions and always had ideas of how to cook this or that differently depending on your personal tastes… Our day in Dinan was spectacular. We had great dinners, great wines, and great conversations. The accommodations were fantastic. I would recommend this to all my food-loving friends."
Allan W., London, UK
Love every minute of the cooking.
"I don't really know how to begin to thank you for such a perfect week. You made us feel so welcome. It was like coming to stay with old friends. We both loved every minute of the cooking, eating, drinking, laughing, exploring, biking, partying, graduating and salt tossing….
I leave having shared a delightful week with Connie and with a completely rejuvenated enthusiasm for cooking and entertaining. Thank you!"
Caroline J.
Some of the best food I have ever tasted.
"The Course was excellent. You are fantastic hosts. And the way Poul apparently effortlessly throws together some of the best food I have ever tasted was truly inspiring! The kitchen to be and all in with the long languid lunches and dinners. It was exactly the French cooking experience we were hoping for. Please don't change a thing!"
Hugh P.
Excellent week
"I am happy to report we had a really excellent week. Lots of hands on experience and learning. Poulwas an excellent teacher and host and the location accommodation were fine. We reflected on the experience and the work we had done and had so much to praise. I would rate the whole package and programme as excellent!
Jerry B., UK
Wide variety. Delicious.
"We really had a great time cooking with Poul. He was good fun, and always helpful and encouraging. He provided us with a wide variety of meals and all proved delicious…..I would recommend the experience to my friends!"
Laura S., London, UK
I learnt from the best
"I've always wanted to learn how to create an intimate dining experience….
I learnt from the best, hands down I can't think of a better and more qualified person to teach this course, and a more beautiful location to soak it all in. Chef, sommelier, restaurant owner and operator in multiple countries, and that was before establishing his very own dining school. Whether you are interested in the cooking, dining wining food shopping, gardening aspect of this holistic culinary experience, Chef Poul can cater to your needs.
Adults learn by doing, kids learn by watching. There were plenty of "doing"! You are in for a treat with a "hands on" course with undivided attention from Chef Poul. The cooking piece was just a part of it, think wine pairing, food styling….You will be at awe with his attention to details and how he rallies everyone at the dinner table, a perfect exemplification of a super host, made easy by his rich culinary background, multilingual and multicultural self.
The best gift I had out of this experience is my friendship with Chef Poul. He will always be my teacher, mentor and friend. My words aren't doing this adventure justice, you just have to experience it for yourself!!"
Bernice C., Shanghai, China
Great food, great atmosphere
"The course is excellent. All hands-on, with lots of time in the kitchen in a relaxed and encouraging atmosphere…..time passes very quickly with the food and drink in good company."
Eric P., Canada
Amazing host, talented chef, patient teacher
"My mother and I had an amazing time! Everything was perfect. The school was walking distance from where we were staying and the scenery was just beautiful! The house has such character and the kitchen is amazing. Poul is an amazing host, talented chef, patient teacher, and helpful tour guide on the side! He taught us so much, and we ate ourselves silly. He also specializes in wine pairing, which was a great bonus. The food w was beautiful, absolutely delicious and easier than I thought it would be. Poul was very flexible with us and accommodating even though I don't eat red meat and my mother has a difficult time with fish. I can't say enough good things about the whole experience! This is a completely unique way to travel, see new places, and meet great new people. I highly recommend it!!"
Kindra P., WA, US
Wonderful week
"I had a wonderful week with Poul. I loved the hands on cooking and as lucky to have great company for the week. Niall and Poul are a wonderful couple and very welcoming. Brittany is more beautiful than I expected. Thank you for such good organization."
Linda B., Australia
Lifelong friends
"It was a wonderful trip and far exceeded my expectations. Poul was an amazing host, patient and thorough teacher. I learned so much from him. The little house I stayed in was lovely and authentic country French. We had time to experience the culture without taking away from the learning. I feel like I have made lifelong friends and will definitely go back there. Can't wait to experience another one of your tours next year Thank you."
Patty C., GA, US
"I had so much fun and I learned a lot!"
Anthony Y.