Your cooking school is set in the heart of France and Loire Valley – the home to European Renaissance which brought a rich and diverse culinary history. Experience a week of cuisine or pastry adventure with our award-winning chefs in an informal and picturesque environment surrounded by quaint villages and castles. The only qualifications needed are a love for food and the desire to learn about cooking.
Travellers who like to join a small group of like-minded companions to share the experience with.   If you are looking for daily cooking classes and excursions, and don't want to worry about logistics. We will take care of everything!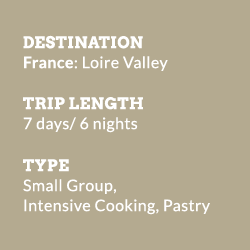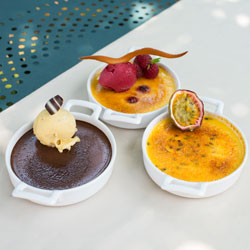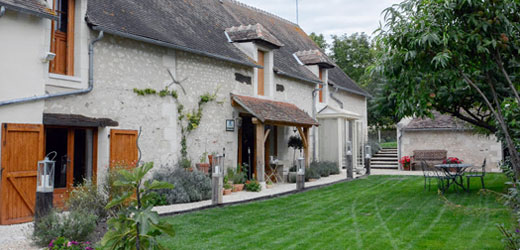 Our cooking school is located on the river Creuse in the heart of The Indre et Loire region, set in a small French hamlet on the edge of the local forest. The region is home to the finest goat's cheese producers and winemaking has been deeply rooted here for centuries. This area is simply known as France's 'Bread Basket'.
The classes are limited to a small grooup, which allow us to give personal attention to all guests.
Our two chefs are award-winning chefs with many years of international experience. After meeting at The Royal Swazi Sun Resort and Spa in Swaziland, they married and have enjoyed a colourful culinary career. They have cooked for several heads of state which have included Her Majesty Queen Elizabeth II and The Duke of Edinburgh, Prince William, Richard Attenbourgh, Mick Jagger, Madonna, Cher, Sylvester Stallone, U2, Elizabeth Taylor and Richard Burton. They have won recognition by major food guides and have won medals at international level. Our chef was Captain of The British Craft Guild Team for 2000/2001 when they achieved a record medal total.
The philosophy of this husband and wife team is 'Balade Gormande sans Frontière', Cooking without boundaries, or as our chef would like to say, lets take a walk on the wild side, and he would, as he was born and raised on the plains of Zululand. They take traditional French cooking and introduce exotic flavours and traditions from around the world to create an exciting 'culinary adventure'.
You will leave our cooking school with a newfound confidence and enthusiasm, impatient to return to your own kitchen to experiment with your skills.
Choose between:
+ A French Culinary Adventure
+ French Dessert & Pastry
Your home for the week is a choice of either staying on-site at the cooking school or a boutique hotel in the nearby spa town with excellent service and attention to detail. All transport between hotel and cooking school is provided by us at no extra cost.
At the cooking school 
Accommodation at our cooking school is in one of our exquisite 4 bedrooms with en-suite bathrooms, private terrace and sweeping views over the country side.   The rooms are a new addition and have been built to the most modern standards of comfort whilst retaining French country charm.   We truly believe it is the best accommodation available in a radius of 50km!
The cooking school is just steps away across the garden and you can relax here on your own private balcony with a glass of Loire Valley wines at the end of the day.
Les Loges du Parc ****
Les Loges du Parc is a charming hotel situated in the centre of the pretty spa town of La Roche Posay. The hotel with its imposing 'Belle Epoque' façade, surrounded by its rose garden and pivoineraie, thermal pool and a large terrace with linden trees creates a unique and exceptional place in the village.
Completely renovated in a chic country spirit, it offers tasteful large hotel rooms and suites where each room has its own identity; wood, amaranth, coriander, green countryside.
The exterior has kept its Art Nouveau charm with its architectural frieze. The hotel offers a relaxing pool and bathing area where guests can soak up the French Sunshine. Inside there is an atmosphere of peace and authenticity with the solid wood floors and fireplace in the lobby. It is comfortable with character and charm.
Les Loges du Parc is part of the prestigious Châteaux & Hôtels Collection (Alain Ducasse Group).
French culinary adventure:
17 – 23 March
21 – 27 April
5 – 11 May
15 – 25 May – fully booked
26 May – 1 June
23 – 29 June
7 – 13 July
21 – 27 July
1 – 7 Sept
15 – 21 Sept – fully booked
22 – 27 Sept – fully booked
27 Oct – 2 Nov
Pastry culinary adventure:
14 – 20 April
10 – 16  Nov
Women's only culinary adventure:
24 – 31 August
Fire and Spice Culinary Adventure:
9 – 15 June
additional weeks for private groups on request
Week-long Culinary Adventure
Residential – Euro 2,650
Non-Participating guest – Euro 1,095
Single Supplement – Euro 495
Week-long Pastry Adventure
Residential – Euro 2,650
Non-Participating guest – Euro 1,095
Single Supplement – Euro 495
Accommodation for six nights
Entrance into Château Chenonceau
Meals: daily breakfast, and meals as per itinerary, including three glasses of selected wine with meals.
Transport for all activities in the itinerary.
Personalised apron and recipe folder.
Free Wi-Fi
Travel to France and cooking school, optional meals, drinks, spa treatments and excursions not listed
BY AIR
Charles de Gaulle and Orly Airports are all within an hour and a half by train to Chatellerault, Tours and Poitiers Stations. From here we can arrange transfer for you to our cooking school (small transfer fee applies)
Ryanair fly from London Stanstead to airports at Poitiers and Tours. Ryanair also offers flights from Dublin, Barcelona, Marrakesh, Nice, Porto and Manchester to Tours and Poitiers.
BY TRAIN
Eurostar then the highly reliable TGV. There are two ways to get here.
The TGV runs three trains a day directly from Terminal 2 at Charles de Gaulle Airport to 'le Calabash' which is a 1 ½ journey.
Eurostar from the UK and change platforms at Lille for the TGV to Tours (note station name 'Saint-Pierre des corps') or Poitiers. We are approximately an hour from either city or Eurostar to Paris, Gare du Nord, and then a bit of sightseeing perhaps before catching the TGV from Paris Montparnasse to Chatellerault, a short 20min drive from the cooking school.
Please go to raileurope.co.uk for bookings.
All transport between cooking school and nearby hotels are provided at no extra cost thus no car is needed throughout the week.
SAMPLE ITINERARY - FRENCH CULINARY ADVENTURE
Arrival and check into hotel – welcome champagne and dinner
Morning cuisine class with award-winning recipes from our cookbook – lunch incl artisanal cheeses – afternoon patisserie class – dinner with cooking demonstration
Morning visit to the stunning Chateau Chenonceau – traditional lunch in Chenonceau – afternoon decadent ice cream & mousse au chocolate class – dinner with seasonal menu
Morning visit to historical Tours and its fine food market – Traditional French lunch – learn the secrets of perfecting the Macaron – gourmet dinner at a Michelin starred restaurant
All about Fish – learn how to identify the freshest fish and techniques of preparing your fish – afternoon at leisure to explore the area, cycle, hike, relax at the world renown spas in town – evening tasting of Loire Valley wines and French chocolates
Visit our local Goats Cheese farm – class to learn the art of Soufflé – Lunch in the Orchard – afternoon patisserie class and prepare for tonight's Zulu BBQ – learn some of the most exotic dishes from the African continent – Champagne & Certificate presentation – farewell dinner
Traditional French Breakfast – departure before noon
SAMPLE ITINERARY - FRENCH PASTRY ADVENTURE
Arrival and check into hotel – welcome champagne and dinner
Master Choux Pastry and Pâté à Sable Breton – traditional French lunch with artisanal cheeses – afternoon create some classic, but impressive desserts with a contemporary twist – dinner around the fire
Learn the art of sorbet & ice creams – Lunch in a traditional bistro – afternoon croissant & brioche making – Wine and Chocolate Pairing – evening cuisine demonstration followed by dinner
Visit to historical Tours – breakfast on selection of best pastries in town – explore both the indoor 'Les Halles Food Market' and outdoor markets – traditional French lunch –   afternoon chocolate work and couvertures – time at leisure before dinner
Learn classic French, Swiss and Italian desserts – Lunch a classic Bistro styled menu – Class on the Art of the Macaron – Zulu BBQ with exotic dishes from the African continent
Morning class on Tuille work and sugar craft – Seasonal lunch – Afternoon class on Soufflé and Dessert Presentation – Certificates & champagne at the cooking school – farewell dinner at renown Michelin starred restaurant
French traditional breakfast and departure
Delicious
"Thank you so much for organising a fantastic cooking adventure!"
Sam Rodgers, US