Hidden amidst rolling vineyards is our Chateau and cooking school, elegantly restored in keeping with the traditions of an authentic Provencal Mas. Visit colourful country-markets with our chef and learn how to cook the cuisine of the South. Surrounded by cypress and olive trees and infused with the enchanting aromas of lavender and rosemary, this country retreat will satiate the soul as well as the palate.
If you like to join a small group of like-minded companions for cooking classes in France and also cherish your privacy. It is the best of both worlds – convivial classes in the mornings and exploring at your own pace in the afternoons and evenings!
Wine lovers.
If you are seeking a quiet and relaxing country side experience.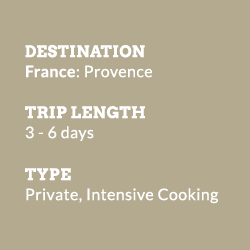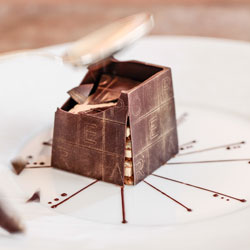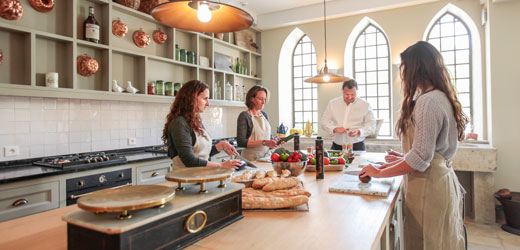 The Var: The stunning Var region in the Southern France is a diverse area, stretching from the Gorge du Verdon in the north to St Tropez in the south. Blessed with its Mediterranean climate, wealth of beauty, ease of access and famous hilltop villages, this part of Provence has attracted discerning travelers for centuries.
In the north lies the Gorge du Verdon, which is often referred to as France's Grand Canyon and is a paradise for outdoor enthusiasts. The rural heartland is home to many historic cathedrals and abbeys, as well as huge swathes of land devoted to vineyards. Here you will find many pretty medieval villages such as Tourtour, Cotignac & Villecroze. And to the south lie the coastal towns of St Tropez in the east and Toulon in the west. Also along the coast lies the wonderful red rocks of the Esterel mountain range, and of course, plenty of golden sandy beaches.
The cooking school: We are located in the heart of Provence, between Nice and Marseille near Lorgues, our Château nestles in a valley amongst olive trees, thyme and rosemary. Here, the tradition of winemaking has been deeply rooted since 1750; the winemakers live for their passion of wine and give of their knowledge with generosity, talent and care. Stay in luxury in a private estate of 500 hectares of gardens and vineyards and enjoy quintessential Provencal country side.
About the cooking course/ chef
The newly refurbished Cookery School is a vast, old-fashioned kitchen worthy of the finest mansion houses, complete with varnished tiles, sparkling copper pans, polished wood and cool stone…In a friendly atmosphere, you will learn all about the alchemy and techniques of gastronomic cuisine and have fun turning local produce into dishes overflowing with flavours and poetry
Learn and indulge in a feast of the finest local flavours as fresh produce from the château's organic gardens, along with delicacies from the local markets, are transformed into gourmet dishes. Enjoy meals on the terrace beneath the shade of a pergola, or else in the dining room, where the rustic charm of the vineyards is depicted in a hand-painted frieze arching across the wall beneath timbered beams.
Enjoy the following themes in our cooking classes:
Cocktail canapés 

French classics

World cuisine 

Provençale cuisine 

Spices

Foie gras 

Cooking with fruit 

Kitchen garden vegetables and flowers 

Mediterranean fish 

Chef benjamin collombat's signature dishes 

Bakery 

Patisserie 
Our gourmet restaurant was awarded a star in the Michelin Guide in 2017.
The château and its auberge are a luxurious, calm, and sophisticated place, sheltered amidst 500 hectares of vineyards and forests. The newly refurbished estate features 27 luxury rooms. Each guest bedroom is elegantly designed yet warm and friendly and boasts its own balcony or sun terrace. The extensive grounds have an outdoor pool, gardens, tennis and boules courts.
Other activities:
Spa:
Set inside the ancient cellar, this 200m² spa dedicated to beauty and wellness features a panoramic terrace overlooking the vines and outdoor pool.
A paradise of rest and relaxation, our wine estate offers a mineral-rich soil, magnificent natural environment crossed by two rivers and all the charms of Provence's genteel lifestyle.
Cycling: The domain covers vast expanses criss-crossed with sinuous, rocky paths – perfect for mountain biking. The Château  offers four well-kept, marked paths, suitable for various levels of expertise, so that everyone can join in while staying safe. Electric bikes are also available to discover the neighbouring villages  of the Haut-Var and along little country roads.
Hiking:  The 500 hectare park is full of unexpected and enchanting corners… Six footpaths will take visitors through this exceptional site, its farm lands, river banks, forest and, of course, vineyards. On a gentle stroll, or a more adventurous hike, fall under the spell of the landscapes, the fauna and flora. Lovers of the great outdoors with be delighted !
For longer hikes, explore the picturesque neighbouring villages. beautiful Verdon
Swimming Pool: In the heart of a green oasis, the large infinity-edge pool invites you for a relaxing getaway.
2-night programme – arrival on Tuesday or Wednesday
3-night programme – arrival on Monday, Tuesday or Wednesday
Cooking class will take place on Thursday
Closed between 2 Jan – mid March
per person in Euro
Low Season: 14 Feb – 31 May and  1 Oct – 31 Dec
High Season: 1 June – 30 Sept
4 days/ 3 nights
Low season:   Euro  1,090
High season:  Euro  1,255
Includes:
Three nights in a deluxe room at luxury boutique hotel
One welcome dinner menu at Michelin starred restaurant Le Jardin (drinks excl)
Two hands-on cooking class with recipes
Two tastings following the cooking course
Guided visit of our winery, cellars and wine tasting
5 days/ 4 nights
Low season:  Euro  1,480
High season:  Euro  1,690
Includes:
Four nights in a deluxe double room at luxury boutique hotel
One welcome dinner menu at Michelin starred restaurantLe Jardin  (drinks excl)
Three hands-on cooking class with recipes
Three tastings following the cooking course
Guided visit of our winery, cellars and wine tasting
Visit of an olive oil mill on Friday morning or afternoon with return transfer
The château is located in the countryside between Nice and Marseille near Lorgues.  (1 hrs by car)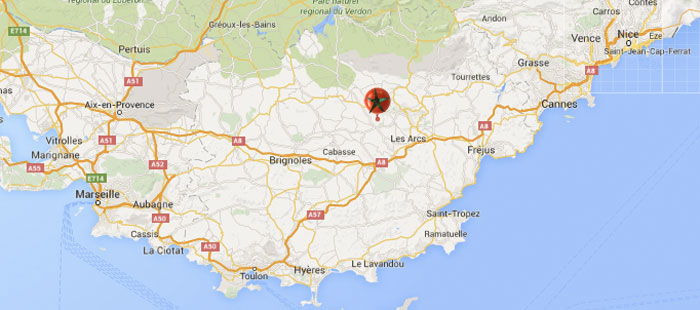 After a scrumptious breakfast, join the chef for a market visit in a picturesque village.
Buy fresh Provencal ingredients for todays hands-on cooking course.  Or pick herbs in the château's organic herb garden.
Cook up a feast – glass of wine in your hands.
For lunch, savour your own French creations.  More delicious wine from the estate.
Fall into a deep delicious slumber at the pool or in your room, overlooking the vineyards. Or, play a round of tennis, boules, bike or go for a walk through the vines and lavender fields.
In the afternoon, visit of the wine cellars and tour the estate with our sommelier.  If you enjoy golf, enjoy one of the award-winning golf courses nearby.
Or, let us pamper you with our wine therapies at the beautiful Spa overlooking our olive groves.
Aperitif on the terrace, followed by dinner.
Tuck into crisp sheets of your 4-poster bed.
Excellent
"The entire experience was excellent, from the wine to the food, sunrise to sunset."
 Sarah D, CA, US
First Class
"We had a wonderful time. The accommodations were first class and the cooking classes were very informative– we learned a great deal and hope to be back soon!"
Fred B, US
Excellent
"What an excellent experience and special treat on our honeymoon!
We certainly covered all the food, wine and cheese bases we wanted and more. The course was excellent and learnt some great tips.
The accommodation was also very good – fab location – and the food & wine was excellent.
We now need to get back into exercise after all the food we ate!"
Alan J, New Zealand
First rate, delicious and fun
"We had a great time and the service and amenities were first rate. The chef  was fun and had a delightful sense of humor in spite of some language barrier….While delicious, my wife found that there was simply too much good food!"
Scott and Cheryl W., US 
Wonderful!
"In a word it was "wonderful! It was all we hoped for and more. The accommodations at the Chateau were excellent — all the staff were professional and friendly and managed to make the both of us feel that we were "special guests." Although my daughter and I do speak French, it was a bit rusty prior to the trip however, it was not a problem as most of the staff did speak some English.
The cooking classes were a lot of fun and excellently done by the different chefs — we had classes with the two head chefs and the pastry chef. My daughter and I kept trying to figure out which of the 4 classes we liked better but just couldn't decide as they were all simply delicious! The chef was very open to our suggestions — we were hoping to do pastry and so one of our classes he could accommodate our requestes and we made a lemon tart.
The food, and the wine, we had at the two different restaurants was excellent. Jeremy, the executive chef, has a way with menus producing food that combines flavors and textures in a sublime manner.
I would highly recommend both the accommodation and the cooking classes to anyone without reservations!"
Denise Y., US, travelling on a mother-daughter trip