Immerse yourself in the Veneto region, known for its outstanding natural beauty, historic culture and dedication the very finest food. Local hunters take you into the hills in search of seasonal truffles. Try the area's best wines, cheeses and salumi, and go off the beaten track to discover family-run restaurants. You will leave not only utterly relaxed, but also trained in truly delicious Italian cooking.
Travellers who like to join a small group of like-minded companions to share the experience with. If you are looking for daily cooking classes and excursions, and don't want to worry about logistics. We will take care of everything!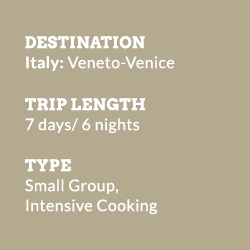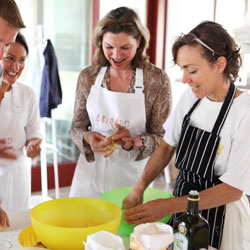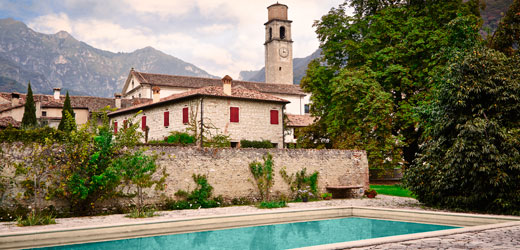 Situated in Italy's northeast, Veneto extends from the majestic Dolomites to the blue Adriatic Sea, by way of an expansive range of hills and a valley furrowed by rivers, lakes canals. In this spectacular natural setting lies a rich cultural heritage that renders the Veneto such a fascinating region, from its cities of art and romance such as Verona, the magnificent Palladian villas scattered along the lakes and the Venetian Lagoon where perhaps the most unique city in the entire world stands- Venice.
We'll take you off the beaten track to discover the hidden jewels of Veneto, quaint villages, high mountains and vineyards. No visit Northern Italy would be complete without experiencing the unforgettable sights and tastes of Venice, so we'll take you to the Rialto fish and fresh foods markets to pick some of the best seasonal produce to bring back for your classes.
Working alongside an acclaimed chef, you'll be able to cook and sample some of the most delicious regional dishes from robust Ossobuco with saffron risottos and pastas packed with flavour to rich fish soups and creamy polentas, accompanied by a chilled glass of local wines. Wonderful home made mustards served with both meats and cheeses are there to be tried. The neighbouring mountain cheeses are outstanding, sampling the nutty Montasio and soft rich Asiago with home made mostarda and a glass of Prosecco is a truly delicious experience.
The use of spices imported from the Orient is so important to the specialties of the area, as is quality fresh seasonal produce, and mastering these will give you a solid base upon which to create many inspiring and innovative dishes both here and at home.
Our elegant Villa is the proud home of a noble family, who have defended the surrounding towns and valleys since the 15th century and still run the property today.
Entering the villa through the imposing entrance hall decorated with giant swords and the family's battle standard, the ground floor has two living rooms, two dining halls, and a designer kitchen with traditional Venetian open fireplace. The bedrooms, complete with their own elegant bathrooms, are each unique in character, style and design.
Long lunches will be taken in the granary where the family's silk production took place, it opens out into the garden with a stunning view of the rose garden. After a dip in the swimming pool, alfresco dinners will be enjoyed under the monumental chestnut tree.
21- 27 May 2023
28 May – 3 June 2023
3- 9 Sept 2023
10 – 16 Sept 2023
For private groups, please email us on info@gourmetontour.com
Per person in British pound
£3,650 per person
£300 single supplement
non-cooking partners are welcome
Six nights accommodation in luxury villa, double occupancy room
All hands on cooking courses, recipes
Meals
Wine tastings
Excursions as outlined in itinerary
Transfers to and from Venice Airport at our recommended pick up and departure times.
International airfare, any meals not specified, tips.
Fly directly to Venice. We arrange all local transfers.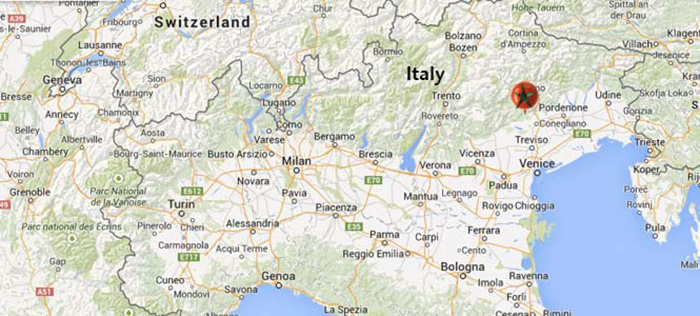 Arrival in Venice and transfer to villa – Early evening cooking class- Welcome dinner
Morning cooking class – Truffle hunt – Cheese tasting – Evening cooking class
Morning cooking class – Afternoon vineyard visit – Wine tasting
Morning cooking class – afternoon at leisure to explore villages and mountains, swim or relax
Morning cooking class – Afternoon palazzo visit – Evening cooking class
"Traditional dishes of the Veneto regions are your stars"
Food & Travel magazine, March 2014
"Completely authentic Italian culinary experience"
Wharf, March 2014
"…what makes a stay at the Villa really stand out is the holistic approach it takes to learning. Not only are you shown new skills and techniques that you can use at home, but you learn how to assess, appreciate and source the individual ingredients you are using – the oil, the cheese, the wine and the vegetables, the meat and the fish. You are with like-minded people in an inspiring environment and in the company of the hospitable owners. What's more, there's enough relaxation time built into the itinerary to make it feel like a proper holiday, too."
Sunday Telegraph, Oct 2014