Discover why the southern Italian regions of Puglia are the newest foodie hot spots everyone's raving about. Fall for its, rustic charm, learn how to cook Apulian classics, sample burrata cheese, meet the welcoming orecchiette makers, sip regional wines while soaking up the stunning coastline. You will leave not only completely relaxed, but also trained in truly delicious Italian cooking.
Travellers who like to join a small group of like-minded companions to share the experience with. If you are looking for daily cooking classes and excursions, and don't want to worry about logistics. We will take care of everything!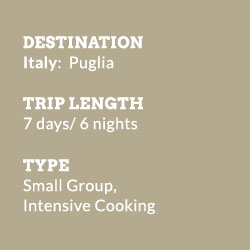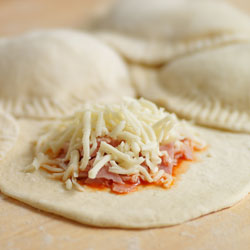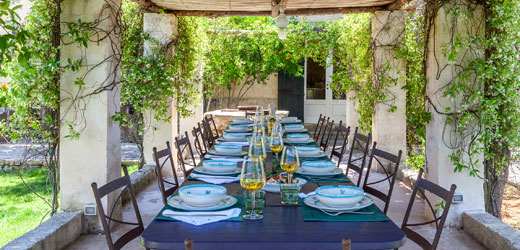 Salento, Puglia, Southern Italy
The southernmost part of Italy's heel laps two seas: the Adriatic to the east, the Ionian to the west. This part of Puglia is home to some of Italy's prettiest towns and cities: the sea-front fortified gems of Gallipoli and Otranto, the creamy baroque sophistication of Lecce and the luxurious seaside pleasures of Leuca.
But the Salento is also full to brimming with quiet towns that are off the tourist trail but greatly worth visiting for their unspoilt historic centres and their unassuming genuineness. These towns – around Lecce – preserve Puglia's strong historic ties with Greece, dating back thousands of years.
The hinterland plays a big role in Italy's agriculture, producing enormous quantities of excellent olive oil and full-bodied, robust wines, such as Primitivo di Manduria and Salice Salentino.
The long coastline features some of Italy's most stunning beaches and dramatic rocky coastline, and haven for sea lovers.
So, if you're looking for a holiday destination with a great climate, dreamy beaches, beautiful historic towns, delicious food and wine and fun for all, this is your place!
Under the fabulous guidance of Chef Ursula, we explore the wonderful cuisine of Southern Italy, making full use of the abundant local ingredients.
From aubergine stuffed with salame & artichoke to lamb slow-roasted in a wood fired oven and baby lemon calamari, the true flavours of the South sing from each and every dish.
The estate produces its own delicious olive oil and the garden boasts a stunning 'orto' bursting with fresh produce. Fig and almond trees surround the pool and meals will be served straight from the kitchen on the long table under the jasmine scented trellis.
The cuisine lends itself to al fresco cooking and we will be making good use of the Masseria's wood-fired oven and outside grill to make delicious breads, focaccia, bake fresh fish and slowly roasted tomatoes.
Expect an array of local Pugliese cheeses; fresh runny burrata, aromatic herby caciocavallo and warm sheep's ricotta.
Home for the week is a beautifully restored Masseria set amongst hectares of ancient olive groves.
14 – 20 May 2023 – full
17 – 23 Sept 2023 – few spaces left
24 – 30 Sept 2023 – full
For private groups, please email us on info@gourmetontour.com
Per person in British pound
£3,950 per person
£300 single supplement
Non-cooking partners
Six nights accommodation in luxury Masseria, double occupancy room
All hands on cooking courses, recipes
Meals
Wine tastings
Excursions as outlined in itinerary
Transfers to and from Brindisi Airport at our recommended pick up and departure times.
International airfare, any meals not specified, tips.
Fly directly to Brindisi. We arrange all local transfers.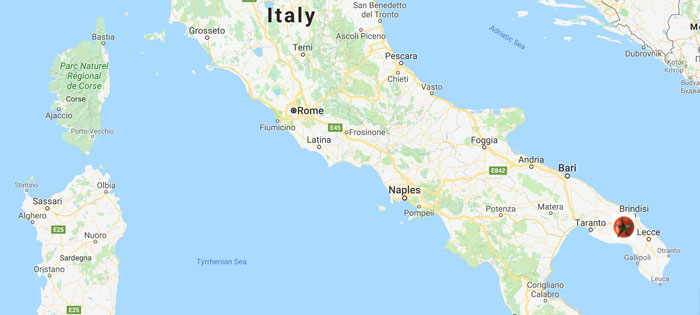 Arrival in Bridisi airport and transfer to Masseria – Early evening cooking class- Welcome dinner
Morning cooking class – Afternoon at leisure for swim, relax or explore the olive groves – Wine Tasting and Dinner
Visit to the Baroque town Lecce – Traditional lunch at family restaurant – Afternoon in Lecce – Early evening pizza making class with wood fired oven
Morning cooking class – Afternoon at leisure – Early evening mozzarella making and cheese tasting – Dinner
Morning market visit – Lunch at beautiful Masseria – Late afternoon cooking class – Olive oil tasting – Dinner
Morning cooking class – Lunch at the pool – Afternoon at leisure – Farewell dinner with wine pairing