Beetroot Gnocchi by Rosa Alpina
Norbert Niederkofler, South Tyrol's most famous chef, founder of the <<Cook the Mountain>> and 3 star Michelin chef of the St. Hubertus restaurant in Badia Alta returns the cycle of nature into the kitchen, with his concept of well living, plants healthy nourishment for the next generation.
Cook the Mountain is way of life inspired by the mountain and surrounding nature,  which Chef Norbert Niederkofler has applied to the kitchen and restaurant.
In this stunning recipe he shared with us, the potato gnocchi is cooked in a beetroot reduction to give the dumplings a subtle, sweet flavour and dramatic pink colour. To add texture, the chef sprinkles the plates with beer soil, made by dehydrating beer, bread and charcoal. This needs to be dehydrated overnight so remember to begin your preparations plenty of time in advance.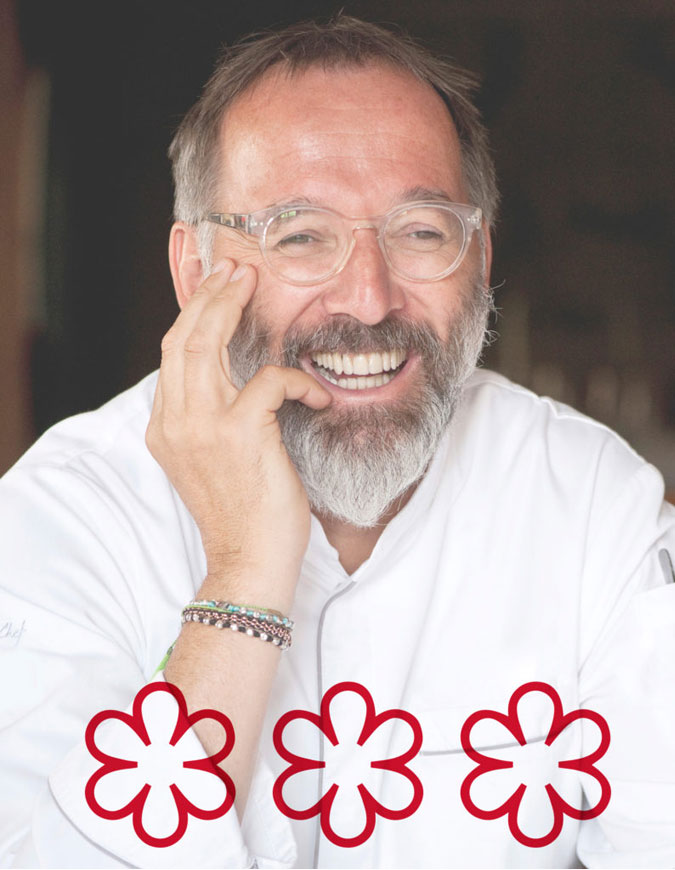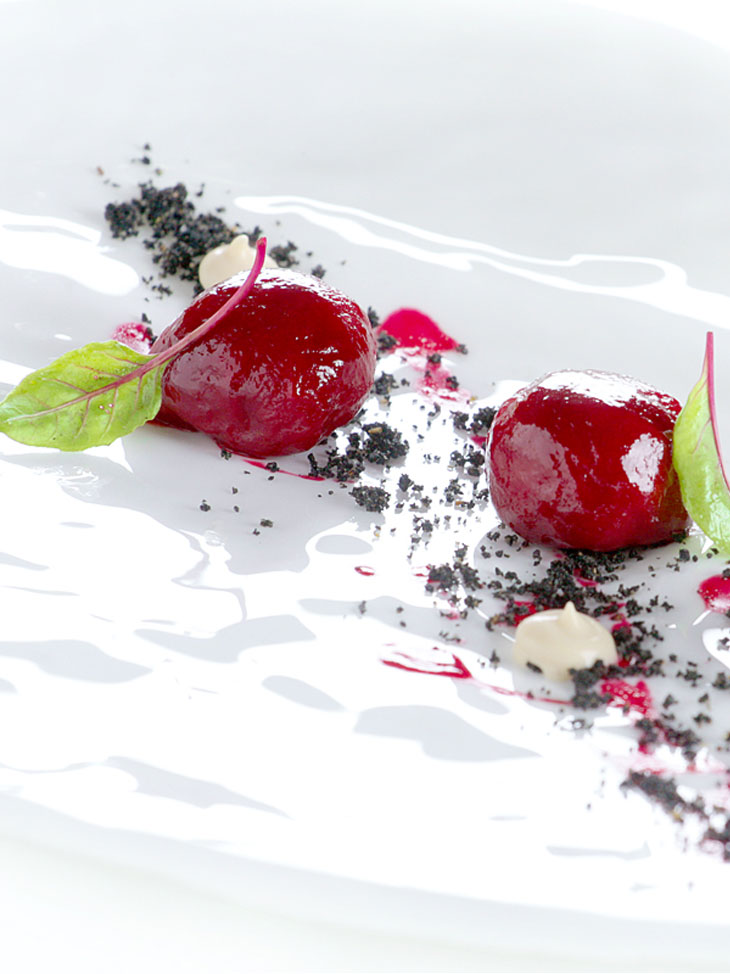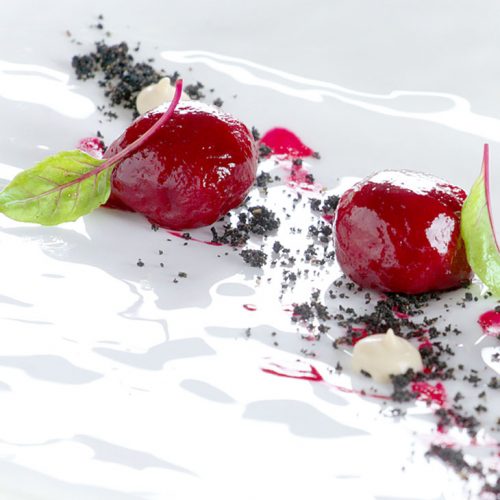 PRINT
Beetroot Gnocchi
by Chef Norbert Niederkoffler (3*) of Rosa Alpina in the Dolomites
Ingredients
Beetroot Gnocchi
500

gr

boiled potatoes

300

gr

flour "00"

60

ml

beetroot reduction

1

egg yolk

salt
Horseradish Filling
500

gr

cream

150

gr

horseradish paste

6

gr

Agar-Agar
Daikon Cream
1

kg

Daikon

1

l

Fresh cream

1

l

Fresh milk
Beetroot Escabeche
100

gr

Beetroot reduction

20

gr

Red wine vinegar

2

sprigs

Thyme

1

Garlic clove

10

gr

Xanthana paste
Beer Soil
200

gr

"Puccia" bread

50

gr

Beer

15

gr

Vegetable charcoal
Instructions
BEETROOT GNOCCHI

Wash and steam the potatoes at 100° C for 50 minutes in the oven. Peel them and pass them through drum sieve. Weight up 500 gr of the sieved potatoes, add the rest of the ingredients and knead the dough until it gets smooth and refined. Cover it and let it rest for one hour in the fridge.

Once its set, roll down the dough with a rolling pin to a 4 mm thickness. Using a 6 cm round cutter, cut some discs, place then half sphere horseradish cream filling in the middle and close it up trying to shape it like a small beetroot.

Cook the gnocchi in a salted boiling water for 4 minutes, drain and deglaze them in a pan with some beetroot reduction.

BEETROOT REDUCTION

Wash and peel the beetroots, cut them into cubes and centrifuge them. Pour the liquid in a pot, bring it to boil and reduce it to 2/3.

HORSERADISH FILLING

Combine the cream and horseradish paste and bring to boil for 30 minutes. Pass it though a sieve, add the agar-agar and salt and bring it to boil again and let it cool down after. Once the cream is cold and still creamy, pipe using a piping bag and fill the half sphere silicone molds and freeze.

DAIKON CREME

Peel and cut the daikon into chunks and roast it in some butter in a casserole. Add milk and cream and cook it until the daikon gets soft. Strain the daikon and blend it in a thermomix until it gets very smooth.

BEETROOT ESCABECHE

Combine all the ingredients except the xantana in a pot, bring it to boil, remove it and let it infuse for 30 minutes. Pass it though a fine sieve, add the xantana paste and place it in sous vide bag.

BEER SOIL

Mix all ingredients for 5 minutes. Place it on a silpat and let it dry in oven at 55° C for 12 hours. Mix it with the beer.

Plate the gnocchi starting splashing twice lengthwise the plate with beetroot escabeche, follow along with the soil and place 5 gnocchi on the same line. Finish it up with the daikon cream