Tuna Tartare with spicy avocado ginger and radish salad
This fresh, zingy and spicy Tuna tartare is one of the favourite items at legendary Jean-Georges Vongerichten's The Cookhouse and Bar. We are sharing this contemporary Asian-inspired European recipe from his Singapore flagship restaurant at Dempsey.
It's perfect as a starter or a light main course.   Enjoy the recipe and happy cooking!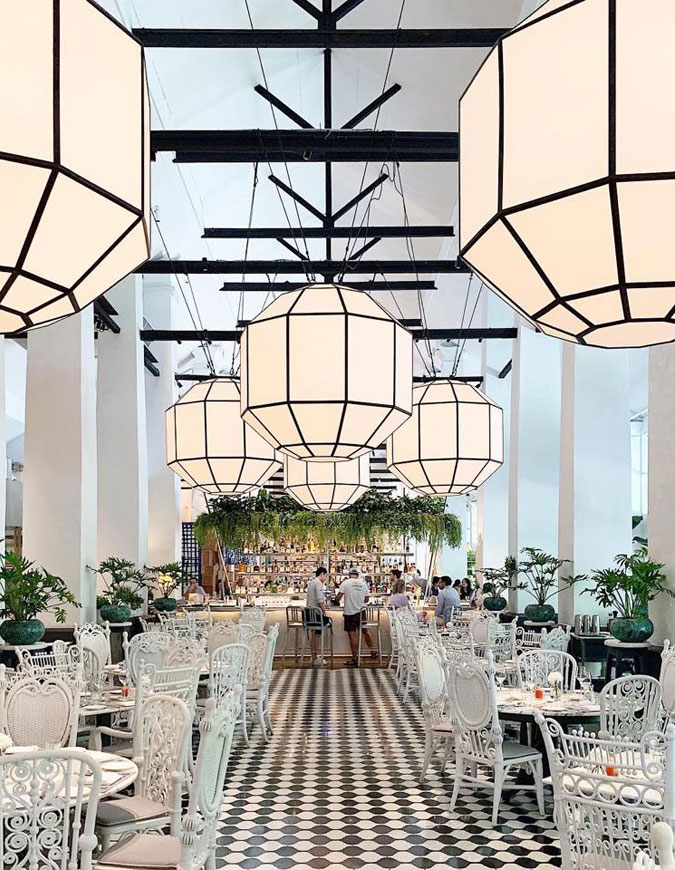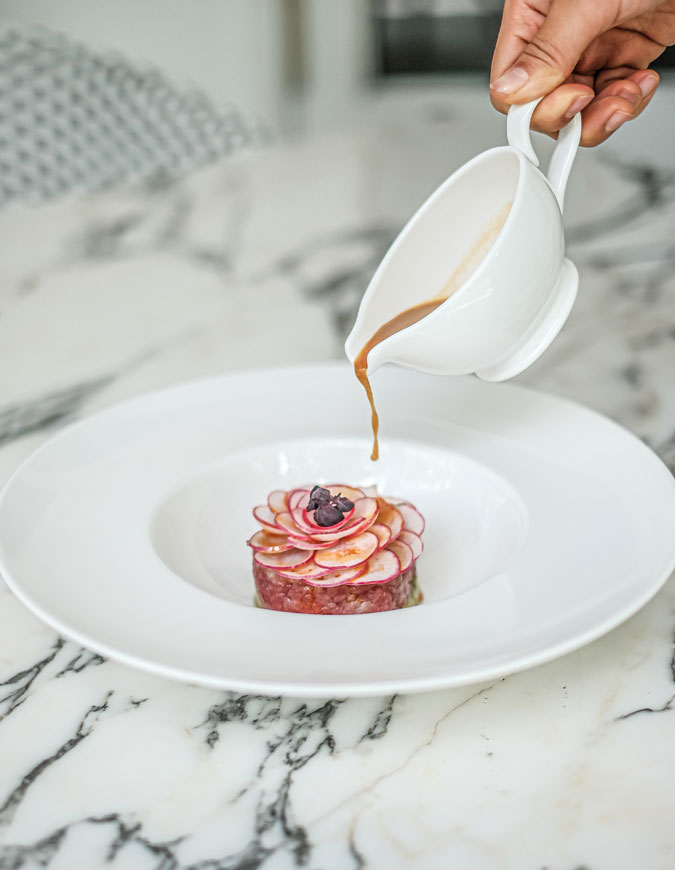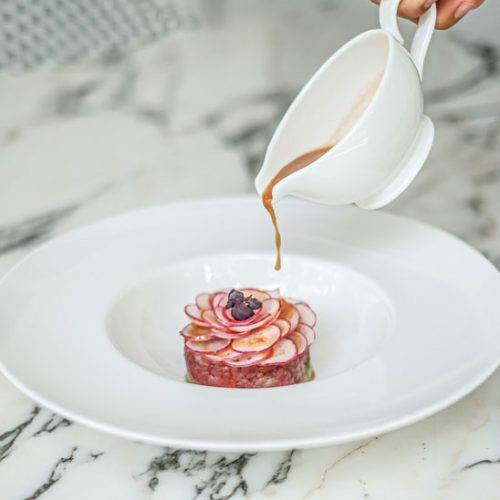 PRINT
Tuna Tartare with spicy avocado ginger marinade and radish salad
Como Cookhouse & Bar, Dempsey, Singapore
Ingredients
Kaffir Syrup
1/4

cup

lime juice

1/4

cup

sugar

6

kaffir lime leaves

(roughly chopped)
Ginger Marinade
1/2

cup

peeled, coarsely chopped fresh ginger

2

tbsp

extra-virgin olive oil

1/2

cup

Champagne vinegar

1/2

cup

soy sauce
TunaTartare
1

pound

sushi-grade center-cut tuna steak

2

tbsp

extra-virgin olive oil

1

dried Thai chilli or to taste, minced

1

shallot, minced 

salt, to taste
Avocado and Radish Salad
2

small avocados

(cut into small dice and slightly crushed )

1

tbsp

extra-virgin olive oil

lime juice to taste

salt to taste

4

red radishes

(sliced 1/8-inch thick and soaked in ice water)

Chinese chilli oil
Instructions
For the Tuna
Note: To dice the tuna it is best to put the tuna in the freezer for 15 minutes to firm up. If the avocado is fresh that too can be cooled to make dicing easier. Dice both into equal sizes-- about 1/4". 
For the Kaffir Syrup
Combine all of the ingredients for the kaffir syrup in a small saucepan and bring to a boil. Remove from heat and let cool to room temperature. Strain and set aside. 
For the Ginger Marinade
In a blender, purée the ginger with 1 tablespoon of the olive oil; add more olive oil as necessary until the ginger purée is very smooth. Transfer toa bowl and stir in the Champagne vinegar, soy sauce and 1/4 cup of the Kaffir Syrup. Set aside.

For the Tuna Tartare

Using a very sharp knife, slice the tuna steak horizontally 1/4-inch thick, then slice the tuna into 1/4 inch dice. In a bowl, gently toss the tuna dice with the olive oil, Thai chile and minced shallot. Lightly season with salt.
For the Avocado and Radish
Slice radishes with a mandolin or truffle slicer very thin. Add the radishes to ice water for 2 hours. This will crisp the radish slices and give them a nicer shape for final preparation.

In a medium bowl, gently toss the diced avocados with the olive oil and season to taste with lime juice and salt.Drain the radishes and pat dry. In a bowl, toss the radishes with a few drops of Chinese chilli oil and season with salt. Mound the avocado mixture in four bowls. Arrange the tuna on top in bundles. Arrange the radishes on top of the tuna in a decorative presentation. Spoon 3 tablespoons of Ginger Marinade around each salad and drizzle with a few drops of Chinese chilli oil. Serve at once.